BOSTON -- Boston Celtics center Kevin Garnett is trying to shake any rust following an eight-game absence due to inflammation in his left ankle, but when asked about it following Boston's disappointing 101-93 loss to the Brooklyn Nets on Wednesday night -- just his second game back from the injury -- Garnett admitted he's still brushing off a few cobwebs.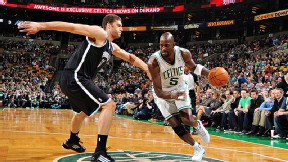 Steve Babineau/NBAE/Getty Images
Kevin Garnett looks to drive in Wednesday's game against the Nets."Absolutely," Garnett said after posting 11 points (5-of-11 shooting), eight rebounds, and four assists. "I can be better. And I will be."
In his return to action in Sunday's win over the Washington Wizards, Garnett managed 12 points on 6-of-9 shooting to go along with six rebounds. It was a solid start considering the time he had missed, but Brooklyn's size and length in the front court on Wednesday halted Garnett's attempt to string together back-to-back steady shooting performances.
Garnett made just one of six first-half field goal attempts, finishing the opening 24 minutes with two points. He came back stronger in the second half, converting four of five shots, though there were signs that his timing and rhythm weren't quite where he'd like them to be. Garnett made just one of four shots in the paint, and appeared rushed at times, like when he missed consecutive layup bids early in the first frame.
And he couldn't have been too pleased when he glanced at the final box score and saw that Brooklyn center Brook Lopez finished with 21 points on 8-of-14 shooting and forward Reggie Evans hauled in a game-high 14 rebounds.
Surrendering that kind of production to two of Brooklyn's best front court players doesn't fall solely on Garnett's shoulders (Brandon Bass finished with just three rebounds in over 26 minutes), but he accepted it as part of his decree to improve prior to the postseason.
"I can be better in every part of my game," Garnett said. "It's not just one decisive thing. Obviously my timing is off a little bit. I'll get that. I'm super anxious around the basket, I'm hurrying shots. The second half, I thought I was a lot better in motion and being consistent and being decisive in what I wanted to do. Sometimes I play against myself a little bit, but the second half I thought I did a better job of just settling in, take my shots, being more aggressive."
With four games remaining on the schedule and some strategic rest likely to be thrown in by Rivers, Garnett will need to be aggressive in the time he does have on the floor. While the eight-game absence did give him a chance to gain some valuable rest, having to rebuild a rhythm for the playoffs in less than two weeks is never an ideal situation.
"He didn't play great but he looked fine," said Celtics coach Doc Rivers. "So I'll take that. Like, even late in the fourth, post him up, it was a great move, he just didn't make it. Now that's the guy that you may say you've got to work through your rust a little bit."
Garnett was non-committal to the prospect of taking another game or two off before the season ends, putting that decision squarely on his head coach. "It's whatever Doc wants me to do," he said.
As long as whatever that is doesn't leave Garnett rusty for the start of the playoffs.