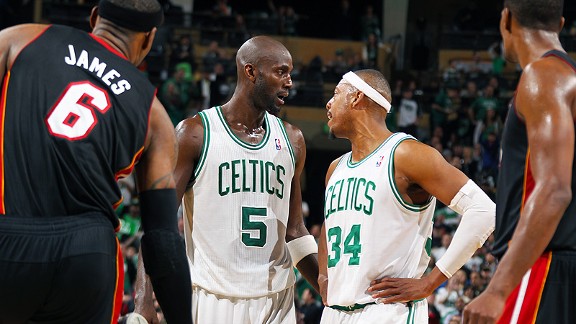 Nathaniel S. Butler/NBAE/Getty Images
Celtics vs. Heat loses some sizzle without Kevin Garnett and Paul Pierce on the floor.The Boston Celtics (40-38, 13-25 away) visit the Miami Heat (62-16, 34-4 home) on Friday night at AmericanAirlines Arena (7:30 p.m., CSN). Here's what to watch for:


* EXHIBITION SEASON?: With their seventh-seeded fate all but sealed and playing the first night of a back-to-back, the Celtics will err on the side of caution and rest both Kevin Garnett and Paul Pierce due to ankle soreness. After missing Miami's last six games (and eight of 10), Dwyane Wade is expected to return for the Heat, but LeBron James and Chris Bosh remain game-time decisions [Update: At shootaround, the Heat confirmed that James and Wade will play, while Shane Battier and Udonis Haslem will get the night off). Even still, the Celtics-Heat rivalry will lack the usual pizazz on Friday night. For Boston, the absence of veterans leaves extended playing time for younger players looking to make late-season cases for playoff playing time. The Celtics won't be focused on the end result, but getting individual players going instead.
* GET GREEN BACK ON TRACK: Jeff Green exploded for 43 points when Miami visited Boston last month, helping to fuel his monster month of March. He's slipped into a mini funk the last two games, missing 18 of the 25 shots he's put up (while settling for perimeter shots instead of attacking the basket). Without Garnett and Pierce, Green will be called upon to shoulder the scoring load and will get a chance to get himself back on track.
* CAN HEAT SPARK TERRY?: Jason Terry has often noted how the mere sight of Miami's colors gets his competitive juices flowing. Maybe more than any other player, the Celtics need Terry to pick up his play in the postseason and give the bench a sustained offensive spark now that Green is running with the first unit. Terry hasn't reached double figures in scoring his last three games and seemed particularly frustrated with himself after Wednesday's loss to Brooklyn in which he was 1-for-7 shooting with four points over 25 minutes. Terry can make people forget about his regular-season inconsistencies with a strong postseason, but ramping up a bit at the finish line would likely aid that cause.
* WHICH GUARD WILL STEP UP?: The recent return of Garnett has brought out the best in both Shavlik Randolph and Chris Wilcox, both big men playing well in shorter minutes. But the Celtics are still waiting for one of their guards to make a case for a potential larger playoff role. Whether it's Courtney Lee, Jordan Crawford, or Terrence Williams, there's additional guard minutes available if one of those players wants to snatch them up with their play over the final four games of the regular season.