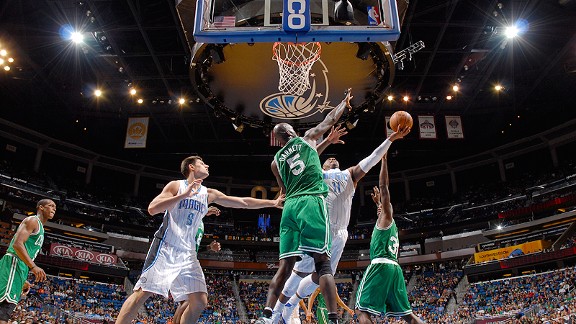 Fernando Medina/NBAE/Getty Images
The Celtics and Magic clash on Saturday night at the Amway Center.The Boston Celtics (40-39, 13-26 away) visit the Orlando Magic (20-59, 12-27 home) on Saturday night at the Amway Center (7 p.m., CSN). Here's what to watch for:


* TERRIBLE OPPONENT?: Celtics guard Jason Terry blistered the Magic after Friday's loss in Miami, saying, "I don't want to give them any fuel but, they're terrible." The Magic own the second-worst record in both the Eastern Conference and the NBA (two games better than Charlotte). Boston has dominated the series lately, winning the last seven meetings (including two victories this season, even if it took overtime to win the last trip to Orlando). With the Celtics stumbling a bit to the regular-season finish line but set to lock up the seventh seed in the East with a victory, Terry called it a "must-win."
* C'S BRING REINFORCEMENTS: Boston is expected to have veterans Paul Pierce and Kevin Garnett back on the floor after they sat out Friday's loss in Miami. With only three regular-season games remaining and Boston likely to find more rest for their starters, this could be one of the final opportunities to work on both individual and team goals, including fostering chemistry with that new-look first unit (assuming guys like Jeff Green, who suffered a bruised left elbow on Friday night, suit up on the second night of a back-to-back).
* SYNERGY SNAPSHOT: The Magic rank 23rd in the league averaging 0.897 points per play, offensively, according to Synergy Sports data. The deadline deal that moved J.J. Redick stripped Orlando of its most efficient offensive player, but Tobias Harris, one of the assets acquired from Milwaukee, has shown real promise (putting up 30 points and 19 rebounds in a win over his former team earlier this week). Defensively, the Magic rank 25th in allowing 0.956 points per play. Orlando is middle-of-the-pack in defending spot-up shooting but struggles against most other top play types. Old friend Big Baby had been the team's defensive conscience, but no remaining player ranks better than the 59th percentile in overall defense.
* WHAT THEY DO WELL: The Magic rank seventh in the league in defensive rebound rate and Harris provides a nice complement to center Nikola Vucevic (who also had a monster game versus Milwaukee, finishing with 30 points and 20 rebounds). Orlando takes decent care of the ball (10th in turnover rate), and if they get hot with their shooting they can make opponents work. Nothing has come easy for Boston on the road this season, but this could help restore a little confidence -- despite Orlando's lackluster record -- by finding a way to post a victory with Pierce and Garnett back on the court.