WALTHAM, Mass. -- Underdogs?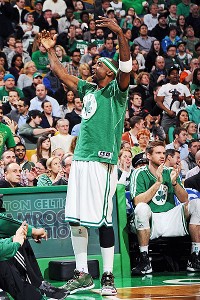 Brian Babineau/NBAE/Getty
Jason Terry said the Celtics will be confident, but not overconfident.Boston Celtics coach Doc Rivers seemed amused by the suggestion when asked how his seventh-seeded squad views an under-the-radar role as it preps for a first-round matchup with the second-seeded New York Knicks.
"I don't feel any different," Rivers said. "We don't call ourselves the underdog. You guys call us the underdog. We don't feel any different."
Beset by injuries and inconsistent play, the Celtics have staggered their way through a regular season that will see them finish just slightly above .500. (Boston is 41-39 heading into Wednesday's finale in Toronto; Tuesday's home game against Indiana was canceled.)
Rivers is the first to admit this is a team that cannot rely on past success, especially since -- of the players available this postseason -- only Kevin Garnett and Paul Pierce were part of the 2008 title team. In fact, only a handful of others were with the team during last year's run to the cusp of the NBA Finals.
But underdogs? That suggests Boston is some sort of David to New York's Goliath, that the Celtics have little or no chance to win this fight. And despite all their woes this season, there's not a single player in the Celtics locker room that doesn't believe they should win this series.
Hop HERE to read the full story.