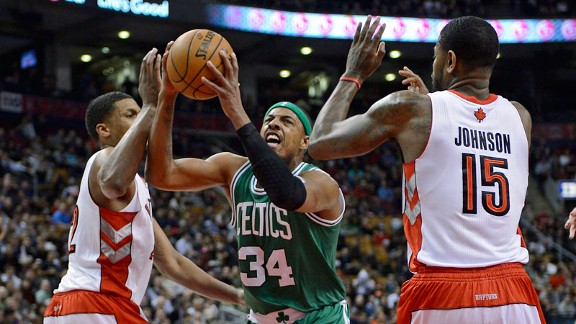 AP Photo/The Canadian Press/Frank Gunn
Paul Pierce and the Celtics wrap up the 2012-13 regular-season on Wednesday night in Toronto.The Boston Celtics (41-39, 14-26 away) visit the Toronto Raptors (33-48, 20-20 home) to wrap up the 2012-13 regular season on Wednesday night (8 p.m., CSN). Here's what to watch for:


* BACK TO BASKETBALL: The NBA cancelled Tuesday's Celtics-Pacers matchup at TD Garden in the aftermath of Monday's tragic events at the finish line of the Boston Marathon. After a bit of a somber practice Tuesday, the Celtics get back on the floor in Toronto. Boston players talked about potentially being a bit of a diversion from Monday's bombings, hoping sports can bring some joy back to a region left rattled by the Marathon tragedy. It will be interesting to see how the Celtics respond after the incident in their own backyard and whether it gives them any sort of jolt considering what they represent as a Boston team.
* LINEUP BALANCE: Celtics coach Doc Rivers had previously planned to run most of his starters on Tuesday night, then rest them in Toronto. That plan has likely been altered a bit and it will be interesting to see if Boston elects to play some of its starters early, then let the bench carry the load later. The Celtics open the playoffs this weekend in New York and, after three days off, must balance getting their players some final on-court action (otherwise they'd be on as much as a full week of rest) with not risking health at this point of the regular season.
* LET THE KIDS PLAY: River said earlier this week that Boston's playoff rotation is set and that no one is really auditioning for spots tonight. "No, we pretty much know [the rotation]," said Rivers. "There are teams that we've had where there are nine guys and they separated themselves and that's your rotation... That's not this team. Use whatever rotation your guys want, but by Game 3 [of the playoffs], I can guarantee you right now, it won't be the same rotation. Unfortunately or fortunately, I'll let you know in a month or so which one is better, but I guess from a coaching standpoint, you'd rather know your nine guys and know that's how it's always going to be. But I don't think that's this team at all. I think there will be guys that will play. And a couple guys struggling, you throw in someone else, and you won't hesitate to do that with this group." With that in mind, the Celtics ought to lean heavy on some players that might need a final confidence jolt. Players like Courtney Lee, Jordan Crawford, and Chris Wilcox have all taken advantage of extended playing time in recent games.
* PLAYOFF SCHEDULE FOLLOWS: The Celtics will get a little more clarity on their first-round schedule after tonight's game. The team planned to stay over in Toronto after the game, will have an offday Thursday, and practice in New York on Friday. With Madison Square Garden booked Sunday for the New York Rangers, the Celtics are likely to play Game 1 on Saturday, but the rest of the schedule will be unveiled after all regular-season action is completed on Wednesday.