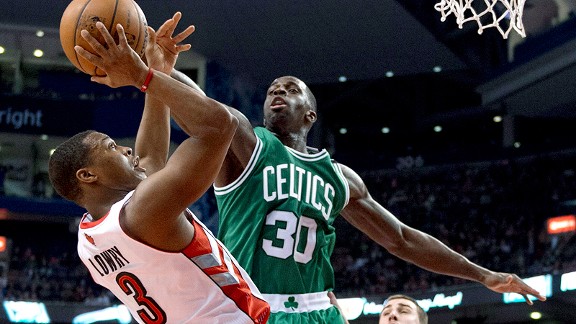 AP Photo/Frank Gunn
Brandon Bass swats a shot during Wednesday's regular-season finale in Toronto.Rapid reaction after the Toronto Raptors defeated the Boston Celtics 114-90 in the regular-season finale on Wednesday night at the Air Canada Centre:


THE NITTY GRITTY
The Celtics got their starters some limited action (Paul Pierce and Avery Bradley each had 11 points in limited minutes) then leaned heavy on the end of their bench (even rookie Fab Melo played 17:26 and finished with two points, two rebounds, and four fouls). Jordan Crawford scored a team-high 16 points on 6-of-14 shooting with six rebounds and five assists over a team-high 36:14. DeMar DeRozan scored a game-high 24 points on 8-of-13 shooting, while Rudy Gay (19 points), Jonas Valanciunas (18), and Alan Anderson (16) all joined him in double figures for scoring.
GREEN FINISHES WITH PERFECT ATTENDANCE
Jeff Green said earlier this week that, after missing all of last season due to heart surgery, it was important for him to play in every games this year. Green and Brandon Bass were the only two Celtics players to appear in all 81 games this season. Both players had breezy nights as Green finished with nine points on 4-of-7 shooting with six rebounds over 17:10, while Bass added six points on 3-of-8 shooting with three boards over 17:41.
TURNING POINT
A tied game early in the second quarter, Toronto started breaking this one open before Boston even rolled in its junior varsity lineup. A 9-0 run by the Raptors helped the hosts take a double-digit lead (59-49) into the intermission. That lead was at 21 just three minutes into the third quarter after a Jonas Valanciunas dunk. The Raptors led by as much as 33 while finishing up their season.
WHAT IT MEANS
Bring on playoff basketball (good riddance, end-of-the-regular-season hoops). The Celtics rested veterans Kevin Garnett and Jason Terry, while avoiding any injury scares for those that dressed (Shavlik Randolph did not play in the second half due to a bruised back, but logged 12 encouraging first-half minutes). As most final games of the season tends to play out, this one turned into a shot-heavy pick-up game. The Celtics finish the season at 41-40 overall. They'll get two days of practice before visiting the New York Knicks to open an Eastern Conference first-round series at Madison Square Garden this weekend.