On the final day of March, after his team had endured a 19-point loss to the New York Knicks -- the second lopsided defeat to their rival in a five-day span -- Boston Celtics coach Doc Rivers was asked if he was leery about the prospects of a Boston-New York playoff series.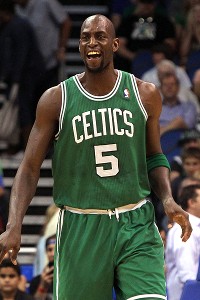 Kim Klement/USA TODAY Sports
Kevin Garnett is rested and healthy for the NBA playoffs."If Kevin doesn't play," Rivers answered.
Yes, everything is different for the Celtics when Kevin Garnett is on the floor. Six seasons after he arrived in Boston and helped deliver the team its 17th world title, the soon-to-be 37-year-old Garnett remains supremely vital to Boston's success.
Garnett sat out 12 of the team's final 17 regular-season games, including eight straight -- those two losses to New York included -- while allowing left ankle inflammation to subside.
Garnett will be operating on nearly a full week's rest when Game 1 of an Eastern Conference first-round series with New York tips on Saturday afternoon (3 p.m. ET, ABC) at Madison Square Garden. After doing all they could to keep him down for the better part of the past month, the Celtics are ready to unleash Garnett in hopes he can help the team do what few believe they can: make another postseason run.
It was Garnett who bellowed, "Anything is possible" after the team dispatched the Los Angeles Lakers in the 2008 Finals. That remains true for Boston, as long as Garnett is on the floor.
Hop HERE to read the full story.