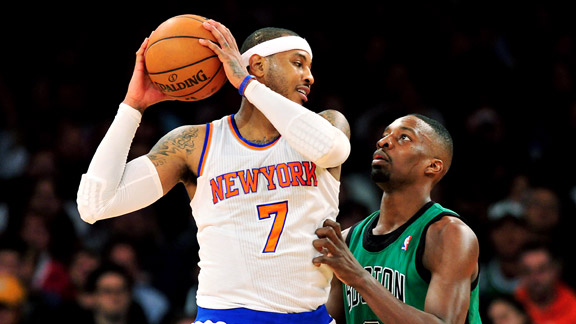 Joe Camporeale/USA TODAY Sports
It's Game 1: Celtics vs. Knicks on Saturday at Madison Square Garden.The Boston Celtics visit the New York Knicks in Game 1 of an Eastern Conference first-round series on Saturday at Madison Square Garden (3 p.m., ABC). Here's what to watch for:


* THE NITTY GRITTY: Setting the table with some help from our friends at ESPN Stats & Info: This is the 14th time the Celtics and Knicks will meet in a playoff series, second most in NBA history (Celtics-76ers have met 19 times). Boston won seven of the previous 13 series, including a four-game sweep the last time the teams met back in the opening round of the 2011 playoffs. New York won three of four games against Boston during the regular season, but the Celtics were without Kevin Garnett in two of those games (both of which were Knicks wins late in the year). Carmelo Anthony averaged 25.3 points in four games against the Celtics this season, but shot just 35 percent from the field.
* CELTICS ARE UNDERDOGS? Since Garnett arrived, the Celtics have never been an underdog entering the first round of the playoffs (they opened the playoffs on the road last season in Atlanta, but were the higher seed). While some Celtics have brushed off the underdog chatter, Garnett hasn't shied away from it. "The Knicks are the better team. They deserve it, they've earned it, and rightfully so. I think [Carmelo Anthony is] playing unbelievable, I think J.R. [Smith], just the whole team, they're playing with a lot of confidence, and that's what you want going into the playoffs." Paul Pierce just laughed at the underdog question and offered, "I don't want to get into that. That's for [the media] to do. You pick the underdogs, I'll play."
* NOW OR NEVER FOR ANTHONY? Being a heavy favorite might only add more pressure for Anthony, whose teams have posted a .315 win percentage in his playoff career, the worst percentage by any player in NBA history to have played a minimum of 15 playoff games and have a career regular-season scoring average of 20-plus points, according to Elias Sports Bureau. Anthony is 1-8 in playoff games in his Knicks career. His teams have been eliminated in the first round eight of nine times in his career.
* NEW FOCUS FOR NEW CORE: Of the players that step on the floor for Boston Saturday, only two remain from both the 2008 title team and the 2010 squad that went to the NBA Finals in Pierce and Garnett. Heck, only one other player (Brandon Bass) was on the floor during last year's conference finals (Jeff Green, Avery Bradley and Chris Wilcox all missed that series last year). Jason Terry, a newcomer himself but with championship experience, said this new young core is ready for what lies ahead. "Guys have been really tuned in to what we're trying to do, especially in these meetings and film sessions, and the practices have been intense," said Terry. "So I feel they're ready as they're going to be and we've got tremendous confidence in them. They've made tremendous strides over the year. You talk about Jeff Green, Avery Bradley, these guys are prepared and ready for the challenge."