NEW YORK -- Despite sitting out the second half of Boston's regular-season finale against the Toronto Raptors on Wednesday with a sore lower back, Celtics forward Shavlik Randolph said before the team's final pre-playoffs practice on Friday that the injury is nothing more than a bruise. Randolph said he isn't expecting to be limited when the Celtics open their Eastern Conference quarterfinal playoff series with the New York Knicks with Game 1 on Saturday.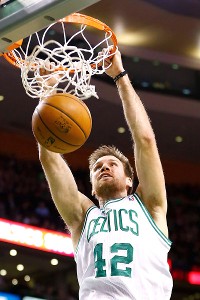 Jared Wickerham/Getty Images
Shavlik Randolph is ready to help the Celtics in the playoffs."I feel fine. It was something that happened in practice [Tuesday]," Randolph said. "I took a charge and landed kind of on the side of my tailbone and, it was nothing I couldn't play through. They wanted me to sit out the second half [in Toronto].
"It's bruised, whatever. At this time of the year, it doesn't really matter. You've got to be ready to play through that... I'm fine, for whatever I'm needed for."
Like several of his teammates, how much head coach Doc Rivers will utilize Randolph in the postseason is still a bit of a mystery. Rivers said Friday he has his playoff rotation in mind, but admitted nothing is set in stone. Randolph said he isn't sure how much playing time he'll see in the postseason, but stressed he'll be ready whenever Rivers calls his name.
"I'm not really trying to go into anything with any kind of different mindset than I've had the whole time," Randolph said. "I've always approached every game with a sense of urgency and kind of like it's my last game, and that's going to be the same. Like I said, I don't know what my role will be, but I'll be ready, whether it's 20 minutes, whether it's one minute, whether it's 20 seconds, I'll be giving it my best."
While Randolph and his teammates are trying to keep their focus on the Knicks and the postseason, their thoughts are still drifting to the chaos unfolding back home in the Boston area and the frightening manhunt that ended Friday.
"What happened is such a tragedy and it really puts basketball in perspective. It does," Randolph said. "When you sit there and think about how many people were affected and how many people were hurt, it does make it hard to care about something that's just a sport, when that's real life stuff. People got killed, people got injured."
The city has demonstrated a commendable resiliency in the wake of Monday's tragedy, and Randolph said the pride the team feels in being from Boston will serve as an extra kick of motivation when the playoffs get underway.
"Just the strength the city showed to rally around each other, it makes you so proud to be able to wear that jersey that says 'Boston' on it," said Randolph. "It makes you proud to represent the city of Boston."