When the Celtics step on the floor Saturday at Madison Square Garden for Game 1 of an Eastern Conference first-round series with the Knicks, only two players (Paul Pierce, Kevin Garnett) will remain from the Boston teams that went to the NBA Finals in 2008 and 2010. In fact, only one other available player (Brandon Bass) was on the court during the team's seven-game series with the Miami Heat during the Eastern Conference finals last season.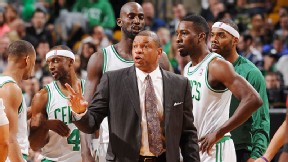 Andrew D. Bernstein/NBAE/Getty Images
Doc Rivers' coaching will be put to the test this postseason.But even with a new-look core, the seventh-seeded Celtics have familiar confidence for one big reason: The guy at the end of the bench has been there all along.
Doc Rivers loves this time of year, when many of the NBA variables get thrown out the window and a coach can lock in on one opponent. This is where Rivers can roll up his sleeves and mask some of his team's deficiencies through strategy and game-planning that's simply not possible over the course of the regular season.
The Celtics face an uphill battle against the second-seeded Knicks, and their inconsistent play this season offers little reason to think they can shift to the next gear. But Rivers is going to try to extract all he can from his team.
"When it comes to basketball nothing's perfect, and I think that everything can be worked on. Obviously, we're a team that's been a work in progress," said Kevin Garnett. "We've had a lot of change in our team... [but] I think Doc is always striving to be his best, trying to prepare us as best as he can for the games. That's sort of the process."
Rivers smiled wide after Wednesday's regular-season finale in Toronto. On the NBA calendar, this is his Christmas.
"I love it. Because it becomes just a war," Rivers said of honing in on one opponent in the playoffs. "It becomes a mental war. It really does. You have to have great focus. You're going to get taken out of your stuff. You've got to be mentally tough enough to still execute. When they're calling the plays, we can tell them where they should go. Same way the other way. I love the playoffs. I love the NBA format. Game 1, Game 2 -- it's just a great mental test for each team. And, to me, it always turns out somebody comes apart when you watch the playoffs. It always happens. Sometimes teams are better. But when it's really close, usually one team pulls together and figures out and everything's on the same page, and the other team comes apart. And it's your job to try to force the other team to do that, and I love that."
Rivers owns a 62-53 career playoff record. Among active coaches, only Gregg Popovich (118-77), Rick Adelman (79-78), and George Karl (78-101) have more wins. Rivers is slowly creeping up that career leaderboard and will someday reside among Boston's most decorated helmsmen like Red Auerbach (99-69) and KC Jones (81-57).
If he's going to improve that record this season, it will be his stiffest test since Garnett arrived in Boston. Rivers has cautioned those who believe Boston's past playoff success will allow it to easily find another level in the postseason, noting there are simply too many new faces and untested players to know exactly how his team will respond in the playoffs.
But one thing is certain: Rivers is going to put his team in the best possible position to thrive.