NEW YORK -- At the tail end of a frustratingly inconsistent regular season, Boston Celtics guard Jason Terry stood confidently before reporters and said that he would be better in the postseason, that his expected performances in the playoffs were why Boston signed him to the full mid-level exception last summer.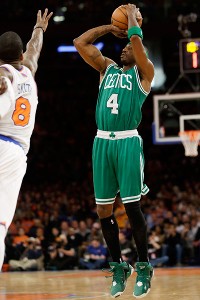 AP Photo/Kathy Willens
Jason Terry couldn't get anything to fall in New York during Saturday's Game 1.Terry, despite a rocky 79 regular-season games, could still be confident, with career playoff averages of 16.9 points on 39.4 percent shooting from 3-point nation and 3.5 assists to fall back on.
But over the course of the Celtics' 85-78 loss in Game 1 of their Eastern Conference quarterfinal matchup with the New York Knicks on Saturday, it became clear Terry hasn't yet shed his regular-season form.
Terry suffered through an 0-for-5 shooting performance (four misses beyond the arc) while going scoreless over 20 minutes of playing time in a game in which Boston desperately needed offense, particularly in the second half.
"I didn't feel like I was in a good rhythm, and it's on me to get into a good rhythm," Terry said. "I'll take a look at the film and figure out the best way to do that."
Terry has appeared in 88 playoff games during his 15-year career and this is the first time he's ever gone scoreless. In fact, it's only the eighth time he's been held below double figures in scoring output.
Head coach Doc Rivers, whose faith in Terry didn't waver during the regular season, didn't seem to have the same patience with his veteran guard on Saturday. Early in the second quarter, Terry missed a 3-pointer and, a minute later, tried to force a pass over the top of the defense to Kevin Garnett that was tipped away by Iman Shumpert. Rivers brought Terry back to the bench with eight minutes to play in the half, and kept him there for the remainder of the second frame.
Unfortunately for Boston, things grew worse for Terry in the second half. Rivers kept him glued to the bench until there were less than three minutes to play in the third quarter, electing to play Courtney Lee off the pine for much of the frame. And while Terry came in with a more spirited effort -- demonstrated by a renewed effort on the glass, of all things -- he was slapped with a very questionable (yet pivotal) foul in the closing seconds of the third quarter while fighting for a rebound with Jason Kidd, resulting in two free throws from his former Dallas teammate that cut into Boston's tenuous five-point lead. He followed that up by going 0-for-3 from the field in the fourth quarter.
"(Terry) obviously didn't have a lot tonight," was all Rivers offered after the game.
Terry finished minus-3 overall in plus/minus, unable to spearhead a bench effort that gave Boston just four total points -- all free throws by Lee.
"That's very disappointing, and I take that very personally," said Terry. "You wish we took care of some opportunities that we didn't."
Not surprisingly, Terry stressed the confidence he still has in himself, despite having yet to deliver the kind of production that's been expected out of the former Sixth Man of the Year. His teammates also expressed their support, as Avery Bradley and Jeff Green continued to refer to Terry as one of the Celtics' key playmakers.
"You don't get too high or down too low," said Terry. "It's a long series. If I bet on myself, I know how this is going to end up. I'm going to keep grinding, do the things necessary to win."
That's all Rivers and the Celtics can hope for, as they desperately need Terry to diverge from his regular-season course and emerge as the playoff producer he's been in the past.