NEW YORK -- Boston Celtics point guard Rajon Rondo, rehabbing from ACL surgery in February, joined the team in New York on Saturday for Game 1 of an Eastern Conference first-round series against the New York Knicks.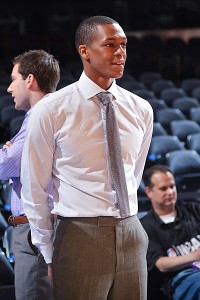 Jesse D. Garrabrant/NBAE/Getty Images
Rajon Rondo with the Celtics during Saturday's Game 1 in New York.Rondo had actually hoped to sync up with the team on Friday, but the since-completed manhunt in Boston in the aftermath of Monday's marathon bombing and the citywide lockdown actually prevented him from getting down to New York City. But Rondo was on the bench Saturday, wearing a bright yellow cardigan beneath a blazer and offering words of encouragement -- and direction -- to his teammates.
Rondo, who returned from the initial phase of his rehab in Florida late last month and attended a couple of home games, was a welcome presence on the road as Boston embarked on its postseason voyage.
"It's great to have him around. Everybody smiled, hugged him this morning, surprised he was here," said Avery Bradley. "We're so happy to see him. He's our leader, and to have him here just makes me feel even more relaxed out there."
The Celtics really could have used Rondo's steady hand on the floor Saturday, as Boston turned the ball over 21 times in an 85-78 loss. But Bradley said Rondo's ability to impart knowledge, particularly given that Boston doesn't have a pure backup ball handler, is a nice luxury for the team's stable of combo guards.
"He's still our leader. I know he'll be on the bench, coaching just like Doc," said Bradley. "So he's going to be big being here. His presence is going to be big for us."
Did the team miss him?
"Definitely. Not having him in the gym. When he came, we were so happy to see him," said Bradley. "Every time he comes we're happy to see him. We're like a family. Somebody's gone for a week and they come back, it's like, 'Yeah, finally, you're back!' So, that's what kind of feeling it is. I'm just happy he's doing well."
Rivers, who had previously said he was indifferent about Rondo's postseason plans and said he was fine with any decision so long as he focused on his rehab, admitted he was happy to have Rondo along.
"He probably coaches as much as anybody. And I don't know if it helps, but I think it does," said Rivers. "I actually don't know; as a player you tend to listen to the players in the uniform over the suits and ties. I feel that way as a coach all the time. So, we'll see. But I know it was great today in shootaround, he knew every set the Knicks were running. Every time we called out a set to walk through it, he was pointing where everybody [would be]. I mean, it's amazing. He's always been that way. I was surprised today because he's not playing. And yet he studied the book. There's gotta be some good value in that."
Asked if Rondo was like adding another coach, Rivers quipped, "He's always been on another level that way. I always tell him that, if he wasn't so crazy, he'd be a great coach."
Read on for more postgame notes on under-the-radar nights for Jason Kidd and Brandon Bass, along with a note on Boston's big-man-less bench:
* QUIT MESSING WITH THE KIDD: The stat line for Knicks point guard Jason Kidd doesn't immediately grab your attention -- eight points on 2-of-6 shooting with five rebounds, three assists and three steals over 35:22 -- but in a game that Boston got virtually nothing from its bench, Kidd gave New York a little bit of everything. And it was his hustle and IQ that shined through. "I love watching him. I didn't like watching him today," quipped Rivers. "He knows how to play. He says it all the time: 'I'm 40 years old and half the league' -- and I said, not half, 90 percent of the league, 'is quicker and faster.' And he beats everybody with his brain. He really does. He beats them into the ground with his brain."
* BASS QUIETLY EFFECTIVE: Much like Kidd, Brandon Bass' line will float beneath the radar after he chipped in four points (making the only two shots he took) to go along with a team-high 10 rebounds over 32:41. He was one of only two Boston players to finish in the positive in plus/minus (Bass was plus-2; Paul Pierce was plus-4). Bass probably didn't get enough shot opportunities on a night Boston's offense desperately needed someone to step up in the second half, but Bass did provide excellent defense, helping keep Carmelo Anthony quiet at times in the first half. The quiet Bass said he just tried to make it as hard as possible on Anthony, but noted, "Melo, he's got to do what he's got to do, and I've got to do what I've got to do, and we'll see what happens."
* ROTATION CRUNCH: Celtics center Chris Wilcox is still waiting to play in his first playoff game. Both Wilcox and fellow backup big man Shavlik Randolph did not get off the pine in Game 1, Rivers electing to stay with smaller, guard-heavy lineups. After a three-man bench of Jason Terry (0-for-5, 0 points), Jordan Crawford (0-for-2, 0 points) and Courtney Lee (0-for-0, 4 points) failed to generate a single field goal, it will be interesting to see if Rivers shuffles things up a bit moving forward. Rivers maintained confidence in his backup guards despite a quiet night, but said the starters will dictate the series. "Our bench has to give us something," said Rivers. "JET obviously didn't have a lot tonight. We had our stretches. I think Jordan Crawford is going to give us more and he didn't because we didn't play him enough. Our starters have to play well for us to win this series and their starters have to play well. It's going to be that type of series."