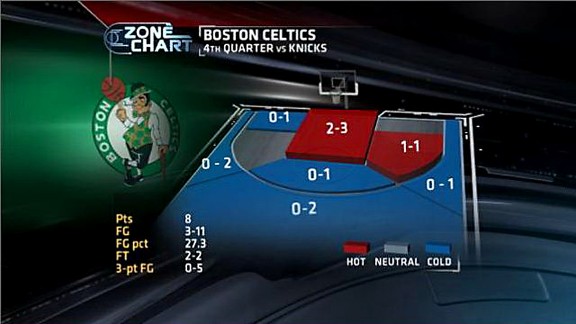 The Celtics fourth-quarter struggles cost them the game.The New York Knicks have a lead in a playoff series for the first time since 2001 after edging out the Boston Celtics as the NBA playoffs began on Saturday.
It wasn't the prettiest of offensive displays, but the Knicks won the way they used to win during their last great run of success, by thwarting other team's chances to score.
Let's run through some of the statistical highlights.
STAR OF THE GAME: MELO
Carmelo Anthony had 36 points, six rebounds and four steals. He became the second player in Knicks history with a 35-5-4 combo in a playoff game, joining Patrick Ewing, who also did so against the Celtics in the first round of the 1990 playoffs.
NEXT LEVEL: MELO CHANGES APPROACH
Perhaps influenced by a hot first couple of minutes, Carmelo Anthony passed the ball on only three of 26 touches in the first half, and after his hot start, he missed 11 of his last 13 shots in the half. In the second half, Anthony took a different approach. He passed 15 times on his 33 touches, the most important of which resulted in a key Kenyon Martin layup late in the game. The Celtics contested 19 of Anthony's 29 field goal attempts, and he made 3-of-14 contested looks through the first three quarters. Anthony finished strong, making 4-of-5 contested looks in the fourth quarter, including three over Jeff Green.
CELTICS DISAPPEARING OFFENSE
Celtics vs Knicks (Game 1)
The Celtics had eight points and eight turnovers in the fourth quarter. Including the first game Saturday, there have been 4,496 quarters of playoff basketball played over the last 15 seasons. Saturday marked just the sixth in which a team had as many turnovers as points. Coincidentally, the Knicks were the last team with such a quarter- a 13-point, 13 turnover quarter against the Heat last season.
IMPACT FACTOR: BENCH PLAY
There was a sharp contrast between the play of the two benches. The Knicks bench had 33 points, 19 rebounds and three assists. The Celtics bench was 0-for-7 from the field with four points, six rebounds and no assists.
J.R. Smith had 15 of those points for the Knicks. He excelled when going to his right, making four of five shots. He was 0-for-2 with two turnovers when driving left.
THE IMPORTANCE OF GAME 1
Entering the 2012-13 playoffs, there have been 438 best-of-seven postseason series in NBA history. Teams to win Game 1 of the series go on to win the series 78 percent of the time (341-97)