NEW YORK -- When Boston Celtics head coach Doc Rivers shows his team the game film from its 85-78 loss to the Knicks in Game 1 of their opening-round playoff series, Kevin Garnett might be among his first topics of discussion.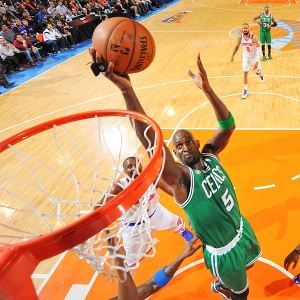 Jesse D. Garrabrant/NBAE/Getty Images
Kevin Garnett skies towards the rim during Saturday's Game 1 in New York.Rivers typically stresses how Garnett, whose defensive value to Boston is no secret, becomes something of a weapon on offense for the Celtics throughout the postseason, when opposing defenses typically tighten up and teams lean a bit heavier on their star players for needed points.
But, even if they had the right intentions on Saturday, the Celtics couldn't establish Garnett on offense the way they wanted to, and he finished with just eight points on 4-of-12 shooting to go along with nine rebounds over 36:36 of floor time, registering a minus-8 in plus/minus.
Part of it rests on Garnett, who not only appeared a bit rusty at times after missing 10 of Boston's final 13 regular season games, but suffered through some second-half foul trouble that limited Rivers' ability to utilize him for important stretches. But Rivers was quick to note how the team let Garnett down on offense on Saturday -- through forced entry passes, poor floor spacing, and an overall lack of ball movement -- and suffered accordingly.
"We were trying to get the ball to Kevin," Rivers said afterward. "I think we threw three passes from halfcourt to the post. I mean, you're going to turn the ball over when that happens instead of just making the next pass, letting that guy make the pass when he's in the passing area."
Garnett's 12 field goal attempts were just three shy of the team-high 15 Paul Pierce and Jeff Green took, but there was little consistency in how his looks materialized. Garnett never established any sort of legitimate offensive rhythm, which became painfully evident in the second half, when Green -- who scored 20 of his team-high 26 points over the first 24 minutes -- went quiet and Boston needed a go-to guy on that end of the floor. Garnett shot just 1-of-5 from the field in the second half, with only two shots coming in the paint. And, just like in the first half, Garnett didn't attempt a single free throw.
"We didn't get him the ball in the right spots," Rivers said. "I thought we allowed them to guard Kevin with our spacing. Really disappointing with how we spaced the floor. We can fix that."
The Celtics mustered a measly eight points in the fourth quarter, but their attempts to get Garnett going offensively were further dashed when he picked up his fifth personal foul with 5:44 remaining. Rivers was forced to sit him for the next three minutes and the Knicks assumed control of the game in his absence. When Garnett returned with a little over two minutes remaining, it was too late to expect much out of him on offense. He didn't attempt a field goal the rest of the night.
"I thought we did a lot of good things, but obviously I thought our defense was better than our offense (Saturday)," Garnett said. "We couldn't put the ball in the basket... We had matchups, we're trying to take advantage of the matchups, you force it -- they're a switch team. They've been doing this all year, this what they do. So, yeah, at times, you could say (we tried to force things on offense)."
The Celtics sought comfort in their self-inflicted wounds on Saturday, stressing how correctable they are as they look ahead to Tuesday's Game 2. Rivers has several areas of improvement to point out to his club, but doing a better job of establishing Garnett on offense -- which should benefit the team's offense as a whole -- has to reside near the top of his to-do list.