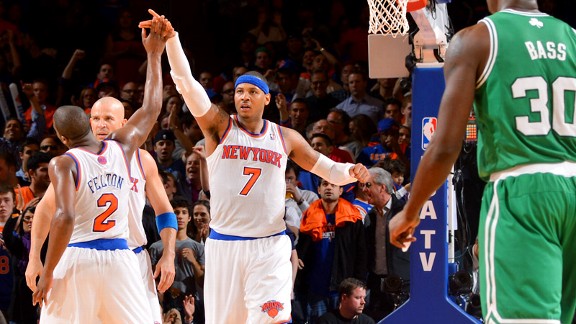 Jesse D. Garrabrant/NBAE/Getty Images
Carmelo Anthony and the Knicks had plenty to celebrate during a Game 1 victory.The Boston Celtics visit the New York Knicks in Game 2 of an Eastern Conference first-round series Tuesday night. Here's what to watch for:


* MORE TOUCHES, SHOTS FOR KG: Keeping with the annual spring tradition, the Celtics have preached a desire to get Kevin Garnett more touches and better shots in the postseason (this after he had a quiet Game 1, offensively). How does Garnett get himself easier looks? "Just play basketball, man," he said. "Our sets are called and our plays are designed for, obviously, movement, opportunity. Within those opportunities, I've just got to be aggressive with those, without coming out of formality or what we've been doing since this point. When I get baskets, it's because I've taken advantage of options within the offense and I haven't overstepped or anything outside of that. So I'm going to stick with that, but obviously being more aggressive with the opportunities that I do get."
* C'S WANT BETTER PASSES: The Celtics were plagued by 21 turnovers in Saturday's Game 1 loss. What's more, many of those turnovers were what Paul Pierce dubbed "boneheaded" plays. Celtics coach Doc Rivers thinks it's as simple as making better decisions with the ball -- and decreasing the degree of difficulty on some passes. "I thought most our turnovers were forced, guys were trying to do too much with the pass," Rivers said. "The good news is they were trying to pass; the bad news is they were trying to pass. Some of the passes, really, should have just been down the sideline and to the post, instead of the guy with the ball was trying to make the pass. Again, they are correctable, but give the Knicks credit, some of those turnovers were forced by [Jason] Kidd and some by their hands."
* BENCH WARMING? The Celtics watched a three-guard reserve unit of Courtney Lee, Jordan Crawford and Jason Terry combine for zero field goals and a measly four points in Saturday's Game 1. Rivers takes some of the blame for not playing his reserves more but said he simply needs more from whoever is on the floor for Boston in Game 2. "The bench didn't play a lot, so I don't overdo that [low point total]," Rivers said. "If our bench had of played and we only had four points, then I would have been like, 'We have to get more points from our bench.' We do have to get more production from our bench, but I didn't play them a lot. Our starters played a lot of minutes. So if you're going to do that, you're going to have to get more production from your starters."
* LET'S PLAY SOME BASKETBALL: The Celtics and Knicks essentially had three full days off between Games 1 and 2. Storylines from Game 1 have been picked clean, and it's clear both teams are ready to get back on the floor. It will be interesting to see how both sides respond to the extended rest. New York undoubtedly likes the downtime for its veteran legs, but both teams likely are a bit antsy. The question is whether there will be any lingering rust for teams that have played just one game in nearly a week's span.