NEW YORK -- After scoring 20 points in the first half of the Celtics' 85-78 loss to the Knicks in Game 1 of an Eastern Conference first-round series, Jeff Green mustered just six points over the final 24 minutes as he logged a game-high 45:35 of floor time and spent a portion of that defending New York's Carmelo Anthony.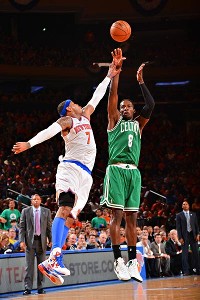 Jesse D. Garrabrant/Getty
Jeff Green gets up a shot Saturday.Celtics coach Doc Rivers said fatigue from playing too many minutes might have factored into Green's second-half output, but Green said Tuesday he has to remain aggressive on offense, even if he's playing heavy minutes.
"I've just got to do it," Green said before the team's morning shootaround at Madison Square Garden. "I've just got to play through the fatigue. I've got to continue to look for mine, basically. There's no excuses now. I want to be out there, I want to compete. I want to play against the best, I want to guard Carmelo, I want to do it all. It's just something I've just got to get through."
Green found himself in a comfortable rhythm early on in Game 1 as he connected on 7 of 10 shots in the first half and made all three of his free throws. Said Green: "I got to the free throw line, I made a couple of shots on the perimeter to get me going and I got some layups in transition. That's how you get yourself going, that's how you get a rhythm."
But Green's rhythm evaporated in the second half as he converted only one of five shots and couldn't keep Boston afloat after it built a seven-point third-quarter lead. Between film sessions and practice time, Green said he has gotten a lot out of Boston's two off days and is ready to make the necessary adjustments in Game 2.
"Just continue to be more aggressive in the open court," Green said of what he can do better Tuesday. "That's about it. Defensively, continue to make everything for Carmelo tough, and just keep him off the offensive boards and get all the 50-50 plays."