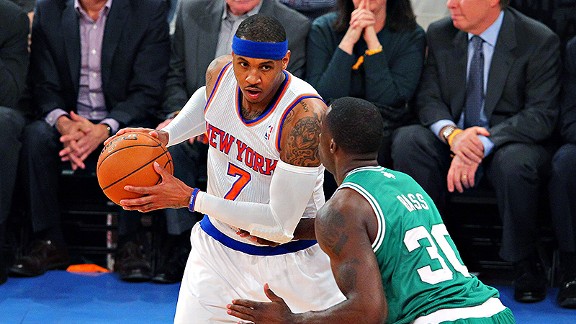 Brad Penner/USA TODAY Sports
New York's Carmelo Anthony is defended by Boston's Brandon Bass.NEW YORK -- Rapid reaction after the New York Knicks defeated the Boston Celtics 87-71 during Game 2 of an Eastern Conference first-round series at Madison Square Garden. The Knicks lead the best-of-seven series 2-0:


THE NITTY GRITTY
Carmelo Anthony scored a game-high 34 points on 11-of-24 shooting, spearheading a key third-quarter outburst as New York raced away and tightened its grip on the series. Freshly minted Sixth Man of the Year J.R. Smith added 19 points, while Raymond Felton continued his role as Boston pest, chipping in 16 points on 8-of-14 shooting to go along with seven rebounds. Paul Pierce scored a team-high 18 points on 8-of-19 shooting with six rebounds and six assists but was again plagued by turnovers, committing a team-high five (with more of what he had labeled the "bonehead" variety) and was a game-worst minus-28 in plus/minus. Kevin Garnett finished with 12 points and 11 rebounds but played a mere 24 minutes due to foul trouble that limited his effectiveness for much of the first three quarters on a night the Celtics desperately needed to lean on him.
TURNING POINT
After a streaky first half that saw the Celtics build their lead as high as nine late in the first half (they led by six at halftime), Boston's offense crumbled in the second half for the second time this series. The Knicks opened the third quarter on a 24-4 run while building a 14-point cushion. Anthony scored nine points as the Knicks were 8-of-10 shooting during a 7:30 spurt to start the half, but it was Boston's offensive futility that sealed its fate. The Celtics were 1-of-11 shooting (9.1 percent) with Pierce contributing the only field goal as the Knicks raced away.
EARLY FOUL TROUBLE FOR KG
After three days of hearing about the importance of getting Garnett involved early, KG splashed a jumper 27 seconds in. But that was about as good as it got. A turnover and two fouls in an 18-second span forced Garnett to the bench with 8:39 to play in the first frame. Garnett got his fourth foul 3:30 into the third quarter and was a helpless spectator for the Knicks' game-changing run.
WILCOX MAKES PLAYOFF DEBUT
Celtics coach Doc Rivers went with Chris Wilcox as the much-anticipated first big off the bench (after not using one in Game 1) in what was Wilcox's first postseason appearance in an 11-year career. Wilcox played three scoreless first-half minutes, grabbed one rebound and was minus-6 in that span. If not for the lopsided nature of the game, he might not have returned. Rivers emptied the bench down the stretch, getting playoff minutes for Shavlik Randolph and Terrence Williams. Courtney Lee saw himself demoted to late-game minutes, playing the final 4:14.
WHAT IT MEANS
The Celtics will cling to the notion that a series doesn't start until a home team loses and say the Knicks simply held serve by winning the first two games of the series. But while Boston had its opportunities in each of the first two games, it also had head-shaking offensive lulls and critical errors in each that doesn't emphatically suggest a team capable of winning a best-of-seven series against a quality opponent. The Celtics hope coming home will provide a spark, but that alone will not be enough to get back in this series. Boston desperately needs to figure out how to mask its offensive deficiencies. Two days off await as the series shifts to Boston for Games 3 (Friday) and 4 (Sunday).