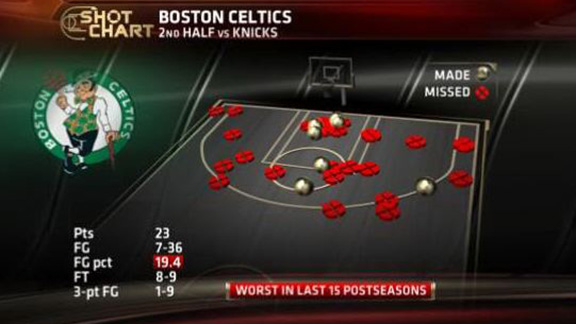 Once again, the Celtics shot themselves out of the game in the second half.Game 2 between the New York Knicks and Boston Celtics was once again a tale of two halves. The Celtics led by six at halftime, shot 56 percent from the field, and held the Knicks to 38 percent shooting. Carmelo Anthony was also held in check (3-for-11 in the first half). But the Knicks struck back, as has been the theme of the series. Let's take a closer look:
Abysmal shooting
The second half was a completely different story from the first. For the second consecutive game, the Celtics appeared to run out of gas. Tuesday night they were 7-for-36 (19.4 percent) from the floor in the second half. That's their worst shooting performance in any postseason half over the last 15 seasons. Boston scored 24 points in the paint -- including the regular season that's tied for their lowest output in a game this season. During this series, the Celtics are averaging 27 points in the paint after putting up 38.1 during the regular season.
Offensive diversity
Anthony has scored 30 or more points in four consecutive postseason games. His production in both halves has been nearly identical. However, Anthony has passed 17 more times in the second halves of the games, helping the Knicks to a 33-point second-half advantage in the series. The Knicks scored 26 points on pick-and-roll plays in the second half in Game 2 after scoring 13 points on those plays in the first half. The Knicks averaged 1.18 points per play on the pick-and-roll in the game and averaged 0.68 points per play on isolations.
Importance of being up 2-0
When the home team wins the first two games of a series, they have gone on to advance 94.4 percent of the time. Only 15 teams in NBA history have come back to win a series after being down 2-0 (Oklahoma City came back from a 2-0 deficit last postseason). Game 3 on Friday will be even more important; no NBA team has ever come back to win a series from a 3-0 deficit.