NEW YORK -- The Celtics have done a solid job defending the 3-point line during the first two games of an Eastern Conference first-round series against the Knicks, but they let up just long enough during Tuesday's Game 2 and it might have ultimately caused them to unravel.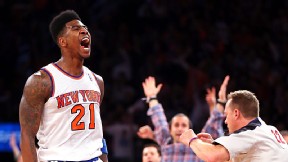 Elsa/Getty Images
Iman Shumpert had reason to celebrate during Tuesday's Game 2 win over Boston.Owning a six-point lead coming out of halftime, the Celtics watched Iman Shumpert connect on a pair of triples over the first 122 seconds of the third quarter to tie the game and swing a pingponging momentum back to New York. The Knicks utilized it to dominate the third quarter, outscoring Boston by 21 in the frame en route to an 87-71 triumph at Madison Square Garden.
"They attacked us and we didn't handle it very well," said Celtics coach Doc Rivers. "We have to be able to do better. I don't know what we are doing wrong in the beginning of third quarters, but we gave up those two back-to-back 3s, which helped their confidence."
Later Rivers added: "It was our defense in the third quarter, clearly. We gave up 3s that we don't give up in this series. I don't know. We didn't come out with the same mentality we did in the first half. I don't know why and I need to find that out in the next two days."
The Knicks connected on 7 of 19 3-pointers (36.8 percent) on Tuesday, but were a mere 1-of-10 in the second half outside of Shumpert's early outburst. It was enough to help New York build as much as a 16-point lead as Boston struggled mightily to generate its own offense.
"We opened up their 3-point game," said Paul Pierce. "We came out and gave Shumpert those two early 3s ... and we've been defending the 3 pretty much well all game, and that was a point of emphasis. We have to do a better job, in that aspect, overall. You have a team that's shooting 40 percent [and averaging] 85 points -- a lot of things we're doing well, defensively."
Echoed Courtney Lee: "Those two 3s by Shumpert were huge. It was back-to-back, they tied the game up, and then once it's a game, it's anybody's game when it's tied."
Read on for a few other postgame notes on the bench:
* BENCH IN FOCUS: True to his word, Rivers leaned heavily on Jordan Crawford during Tuesday's loss. Crawford made his first playoff shot ever (as he promised he would) and finished with 10 points on 4-of-11 shooting with two steals and two turnovers over 25:15. Jason Terry hit three first-half 3-pointers and appeared to be emerging from his season-long funk, but finished with nine points overall. Terry said he won't overreact to one good half: "I made a couple [3-pointers], that's my job. So I still have to be a lot more aggressive and assertive," he said. "I look forward to doing that at home."
* WILCOX MAKES PLAYOFF DEBUT: Chris Wilcox served as the much-hyped first big off the bench (this after Rivers shunned a reserve big man in Game 1) and got early playing time when Kevin Garnett picked up two fouls. Wilcox played only three minutes in the first half and might have been done for the night if not for the end-of-game opportunity with both sides emptying their benches. Shavlik Randolph played four-tenths of a second in the first half, but looped back with 3:13 overall.
* LEE DROPPED FROM ROTATION: Lee dipped a bit on the depth chart in Game 2, logging four scoreless minutes at the end of the night as Rivers leaned on Terry and Crawford as the top reserve guards. To his credit, Lee took the high road when asked about his frustration level. "Because we lost? High. But, because of the rotation, that doesn't bother me. If we had won, it'd have been a good thing," he said. "But it doesn't bother me at all. Like I said, because we lost everybody's frustration level is up."