Boston Celtics coach Doc Rivers said center Kevin Garnett suffered something similar to a hip pointer during Tuesday's loss to the New York Knicks in Game 2 of an Eastern Conference first-round series at Madison Square Garden. Rivers stressed the injury is not serious and he does not expect him to keep Garnett off the floor moving forward.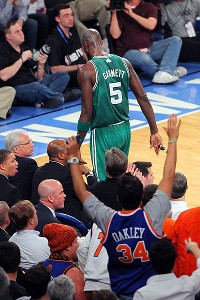 Brad Penner/USA TODAY Sports
Kevin Garnett struggled due to foul trouble in Game 2 against the Knicks.Garnett is expected to participate in practice Thursday and be in the starting lineup for Friday's Game 3 at TD Garden. Garnett sat out 10 of the final 13 games of the regular season due to both ankle inflammation and strategic rest.
"He got hit in the -- it's not the hip flexor, [but] a hip-pointer. It was very similar to having a hip-pointer in football, I guess," said Rivers. "It was affecting him. I was concerned that he had done something else, because where he was grabbing his hip, but I thought it was his stomach, where you pull a stomach muscle or something. That's why I think in a couple timeouts, I kept asking if was he OK. And he is, he's good."
Pressed on the injury, Rivers added: "He's good to go. He'll practice [Thursday] and then play on Friday."
Rivers said the Celtics plan to go right back to Garnett, who was disrupted by foul trouble that knocked him off his rhythm in Game 2. Heading into that game, the Celtics were focused on getting him more involved on offense.
"Him getting in foul trouble had a huge impact on the game," said Rivers. "We gotta find a way to keep him out of that. That hurt us. And it was clear. Listen, if Carmelo (Anthony) gets in foul trouble, it's going to have a huge impact on the game for them. It did for us, no doubt. I actually thought Kevin started out great, you could see he was aggressive, ready, we were getting him in his spots. But, guys, you've been around this long enough, if you get two fouls early like he did, he really never was allowed to get his rhythm again."
When asked about force-feeding him again in Game 3, Rivers noted, "We got him right to the right spots that we wanted to, but again, he was sitting next to me a lot."
Rivers, who dubbed some of the early whistles against Garnett as "horrendous" after Game 2, hinted the league might not have been happy with his choice of adjectives.
"I didn't think I said much and that could be a problem," admitted Rivers. "Because all I basically said was, Kevin getting into foul trouble had a huge impact on the game. That's not criticizing officials. So I've just got to make sure I focus on our stuff."
Rivers said the team watched film on Wednesday and he again stressed to his players the need to make things easier on themselves on offense.
"The game, it's not as difficult as we make it at times. In the first half, we got a lot of early baskets, a lot of transition baskets, we were so active defensively that we got out into breaks and we were able to score," said Rivers. "It's what I said since [Rajon] Rondo's gone down, that's how we have to score. For us to score, though, we have to be even a better defensive team, and we were in the first half. In the second half, the third quarter, we gave up 32 points. And so everything felt like we were walking the ball up the floor, or under an amazing amount of pressure, and that's where the Knicks, they clearly turned up the pressure. But the only way they were doing that is because they were scoring. And that allowed them to set their defense. It's still connected and we have to be better."
Rivers said he believes that coming back to Boston -- a place the Celtics haven't played since April 10 after their regular-season home finale was cancelled in the aftermath of the marathon bombings -- will undoubtedly help his team.
"It feels like a month," said Rivers, whose team had been out of the area for a full week before returning home after Tuesday's game. "It will be great to be home. Obviously, this is an extreme circumstance, we missed our last home game of the year, which I don't know if that's ever happened. And we've been on the road ever since. First of all, it's just good to be back in Boston, period. Second, it will feel great and be great to be back in the Garden, playing in front of our fans. But we have to play better. We have to play harder. I thought clearly, the Knicks came out in the second half and, acted far more desperate than we did. And I thought it showed in the way they played."