BOSTON -- Asked about J.R. Smith's flagrant-2 elbow that floored Jason Terry in the fourth quarter of New York's Game 3 triumph on Friday night at TD Garden, Boston Celtics coach Doc Rivers paused and seemed a bit emotional as he crafted his words.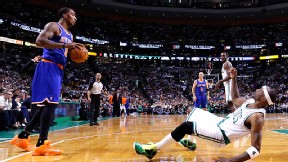 Greg M. Cooper/USA TODAY Sports
JR Smith floors Jason Terry with an elbow in the fourth quarter of Game 3."I hate doing it, you know that. I don't know. I wish I was playing. I didn't like that," said a visibly angered Rivers. "[The Knicks were] up. So ... I'm going to stop. I've already given up money."
With the Knicks up 19 with seven minutes to play, Smith seemed aggravated by Terry's attempts to strip the ball near the 3-point line in front of the Boston bench. With Terry crouched and up on his body, Smith appeared to purposely swing his arm, sending Terry backward to the floor with an elbow that connected with his head.
Smith was assessed a flagrant-2, which comes with immediate ejection.
Terry did not make himself available to reporters after the game, but his reaction on the court said it all. He immediately popped off the court and pursued Smith, stopping only when both Jeff Green and Rivers intercepted him.
Smith attempted to defend his actions.
"I was trying to draw the foul," he explained. "[Terry] reached in one time, I thought he was gonna reach in a second time and I was gonna try to get a quick shot off, but they made a call that the refs saw, and there's not really much I can do about it."
Asked if the flagrant-2 was warranted, Smith added: "I don't really know, I'm not really the judge of that. I'm going to let them do what they do. I really try to stay away from getting into it with the officials, so I gotta keep my head. That was a bad basketball play on my behalf, just because I got kicked out of the game and my team needed me. I just have to be ready to play Sunday."
Like with all flagrant fouls, the league will review the tape and can add further punishment, including possible suspension.
Read on for postgame notes, including Rivers' thoughts on his lineup shuffle, Fab Melo's D-League honor and Rivers' take on his $25,000 fine for criticizing officials.
LINEUP SHUFFLE FOR C'S
With the goal of taking some ball-handling responsibilities off Avery Bradley's plate, the Celtics moved Jason Terry onto the starting unit and shuffled Brandon Bass to a reserve role. How did Rivers like the results?
"I don't know. We're 0-3. I may start you in the game, if you can give me something," he joked to a reporter. "The reason I did it: I was just to alleviate some pressure from Avery. I just think all the ball-handling that he's doing –- it's just too much, honestly. And so our thinking was, they start with the two small guards, so we can match up. It's a good matchup for us. I actually liked it because we got shots that you wanted, we just couldn't make anything. And so at the end of the day, it didn't work, but I still liked it."
While answering if he'd go back to the lineup, Rivers cracked, "I haven't watched [the film] yet, so I'll watch it tonight. That'll be fun."
Terry scored 14 points on 4-of-9 shooting, but was a team-worst minus-12 in plus/minus. Bradley didn't take advantage of playing off the ball more, missing three of the four shots he took while finishing with two points. And Bass, maybe Boston's most consistent player over the first two games, missed four of his five shots and finished with three points off the bench.
MELO EARNS D-LEAGUE HONOR
Celtics rookie center Fab Melo was named to the NBA Development League first-team All-Rookie.
"It's an honor," said Melo. "I represented the Celtics with the Red Claws, so it was a great thing for me. It was one of the things I would like to accomplish in my career."
Melo was joined by former Celtics second-round pick Kris Joseph on the all-rookie team. Joseph played for the Claws earlier this season before being waived by Boston.
Asked about his progress at the D-League, Melo added: "I became a better professional, a better basketball player. I understand how to play man-to-man way better, and I think it will be very good for me next year, especially in the summer league."
LOOSE BALLS: DOC'S FINE WITH FINE
* Rivers got in a final jab at the league after they docked him $25,000 for publicly criticizing the officiating after Game 2. "Usually the way it works, when NBA security calls, they're not calling to tell you they love you," explained Rivers. "And like I said to them, I didn't get fined for being wrong, I got fined for saying it." Rivers had dubbed a series of early fouls on Kevin Garnett as "horrendous" and noted it severely impacted Boston in Game 2.
* Rivers hadn't seen video of the play in which Russell Westbrook tore his lateral meniscus against Houston. Rockets rookie Patrick Beverley lunged for a steal in the second quarter and his hip collided with Westbrook's knee. Said Rivers: "He was playing and he was playing really well [after the collision], so I was as surprised as, probably, everyone this morning to read that he's going to be out. I mean, that's tough." Asked if that's a big loss for Oklahoma City, Rivers sarcastically answered, "Little bit, yeah. I mean, especially for them because of the way they score and how their scoring distribution is divvied up. That's a huge loss."