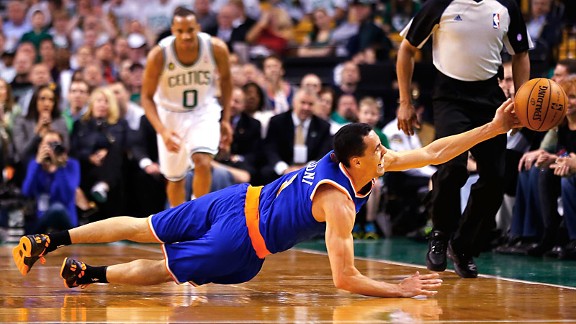 Jared Wickerham/Getty Images
Pablo Prigioni and the Knicks have wanted it more than the Celtics this series.The Boston Celtics host the New York Knicks in Game 4 of an Eastern Conference first-round series on Sunday at TD Garden (1 p.m., ABC). Here's what to watch for:


* PLAYING FOR PRIDE?: Unless the Celtics are to make league history, their fate is sealed being in an 0-3 hole (no team has ever rallied out of it). The question now is whether they'll go down swinging. Coach Doc Rivers knows his team is a prideful group, but admits it also comes down to playing better than what they've shown thus far in this series. "I think, honestly, this group has a lot of pride. But we have to play better with that pride, at the end of the day," said Rivers. "Pride is great; the Knicks, I'm assuming, have pride. But we have to play better. We don't have a big margin of error. We knew that going into it, and unfortunately we've made errors, and to me, at the end of the day, that's where I go back to the X and O part. We've made a lot of errors... And so as a coach, you just keep pushing them to do it right. And it's hard. Sometimes their pride is what gets in the way. Every single guy wants to win. They want to win so bad, they become an individual. I thought [Game 3] there was some of that as well."
* SPOTLIGHT: TEAM PLAY, ONE GAME: Rivers said his biggest challenge will be reminding his team that they can't win four games without winning one. He knows he has to prevent his players from trying to individually rescue the season when the only thing that would allow for a comeback is a team effort over four individual games. "If you don't [focus on team basketball], we're going to lose. That's pretty simple. Now, whether I'm successful at it is a whole different ball game. It's really important. That may be the challenge for me tomorrow more than anything, because we do have the Jason Terrys on our team that want to win so bad that they may go into a game like, 'I'm going to win this game tomorrow!' Yeah, but it better be 'we' are going to win this game. That's important, but it's hard. That's why players are so great, every game is a different game."
* NO EASY POINTS: The Knicks have made a lot of tough shots in this series, but they will be playing without one of their top offensive weapons (and tough-shot makers) in JR Smith (suspended for Game 4 after elbowing Jason Terry in Game 3). Rivers said it's all about making the Knicks work for their points. "There's certain shots that guys take and make, and as a coach, you say, 'That's cool,'" said Rivers. "If they can make that all game, then they get to win the game. That's how you think as a coach. It's the shots that you don't want them taking, when they make those, those are the ones that you don't like. When you see a guy rolling the ball behind the 3-point line, that's clearly not a shot we chose for them to have... When JR Smith makes a one-legged, twist-and-turn around from 30 feet and it goes in, you go pat him on the butt and say, 'That was a great shot. Do it again.' That's how you think as a coach. Then that's why the great players are great, because Carmelo [Anthony] can beat you with those, sometimes. Paul Pierce -- you can name the guys. But there's only one percent in the league that can do that. And you live with that."
* IS THIS IT?: With the Celtics on the brink of elimination, you can't help but wonder if this will be the last time this veteran core -- Kevin Garnett and Paul Pierce, in particular -- take the floor together at TD Garden. A very uncertain offseason awaits this summer despite much of the team under contract for next season.