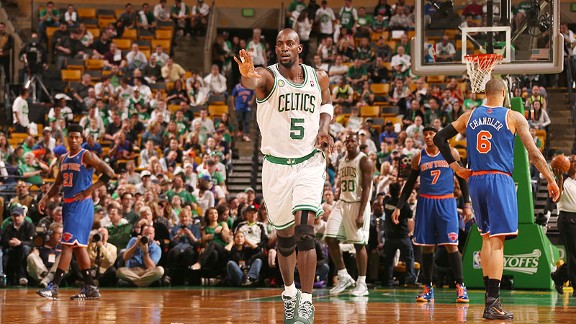 Nathaniel S. Butler/NBAE/Getty Images
Kevin Garnett and the Celtics were looking to stop New York's first-round dominance.BOSTON -- Rapid reaction after the Boston Celtics defeated the New York Knicks 97-90 in overtime during Game 4 of an Eastern Conference first-round series at TD Garden. The Knicks lead the series, 3-1:


THE NITTY GRITTY
Jason Terry, shuffled back to a reserve role, came up with a couple of big shots in overtime while scoring 18 points on 7-of-10 shooting to go along with four assists. Paul Pierce scored a team-high 29 points on 9-of-20 shooting with eight rebounds and six assists, while Kevin Garnett added 13 points and 17 rebounds. Carmelo Anthony scored a game-high 36 points on 10-of-35 shooting, while Raymond Felton willed the Knicks back from a 20-point hole with 27 points on 10-of-21 shooting.
A DOMINANT FIRST HALF ...
The Celtics held a 12-point lead when Jeff Green picked up his third foul with three minutes to play in the first half (joining Garnett on the bench with his third foul). Boston has had a propensity to stumble at the end of quarters, but actually closed out the first half on a 9-0 run that included a deep 3-pointer by Pierce after Avery Bradley swiped an inbounds pass following a Brandon Bass make. The Celtics owned a seemingly safe 54-35 lead at the intermission.
... BUT ANOTHER DREADFUL SECOND HALF
The Celtics were up 14 with 3 1/2 minutes to play in the third quarter when Felton took over. He scored 12 of New York's final 15 points (all but an Iman Shumpert 3-pointer) and his 26-foot heave in the final second of the frame pulled the Knicks within three. Felton finished 5-of-8 shooting with 16 points in the quarter, outscoring Boston (4-of-16 shooting, 14 points).
OOOOOOVERTIME
The Knicks were down five with little more than four minutes to play, but a Shumpert 3-pointer and an Anthony layup tied things up with 3:34 to go. The Knicks squandered multiple opportunities -- including two missed freebies by Anthony -- but Felton hit an 18-foot pull-up with 78 ticks to go. Garnett responded with a 17-footer off a pass from Pierce to even things again with 67 seconds to play. Pierce missed his elbow jumper on Boston's final gasp.
TURNING POINT
Terry broke the game's final tie with a 3-pointer from the left wing in transition to put Boston out front 91-88 with 92 seconds to play. Anthony responded with a fadeaway baseline jumper, but Terry came back with a little fadeaway of his own for a 93-90 lead with 50 seconds to play. Terry then drew a loose-ball foul with 20.4 seconds to go and made his free throws to seal the victory.
OUT OF BASS
Back in the starting lineup and tasked often with defending Anthony, Bass did an excellent job until foul trouble derailed him in the second half. Picking up his fourth foul early on, he was tentative, especially in the fourth quarter when Anthony blew past him for a loud dunk. Bass fouled out with 4:27 to go. He finished with four points and four rebounds over 30:38.
WHAT IT MEANS
The Celtics -- and their veteran core of Pierce and Garnett -- live for at least one more game. Terry, after a disappointing regular season, stepped up with his team's season on the line. This series takes a two-day break before resuming with Game 5 on Wednesday in New York. The Celtics still have an uphill battle, but they showed some mental toughness by fighting back after the Knicks rallied and refused to go out with a sweep on their home turf.