BOSTON -- Brandon Bass fouled out with 4:27 to play in regulation and missed much of the late-game fun. But don't let that diminish his contributions to Boston's riveting 97-90 overtime triumph over the New York Knicks in Game 4 of an Eastern Conference first-round series Sunday at TD Garden.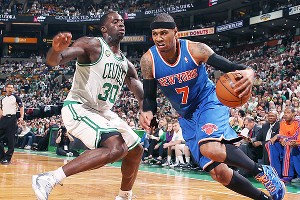 Nathaniel S. Butler/NBAE/Getty Images
Brandon Bass at work against Carmelo Anthony.Celtics coach Doc Rivers shuffled Bass back into the starting lineup Sunday and tasked him with the thankless chore of guarding Carmelo Anthony. While foul trouble limited him to 30 minutes 39 seconds of floor time, Bass did all he could to pester Anthony while on the court.
Anthony finished with a game-high 36 points, but needed 35 shots to get there (missing 25 of them). With Bass at the helm, Boston limited Anthony to 3-of-15 shooting for 16 points in the first half while opening as much as a 19-point lead.
Bass might have missed the final nine minutes as the the Knicks rallied ahead and Boston fought back to win in the extra session, but his teammates showered him with praise for his efforts against Anthony.
"Brandon was the star of the game, as far as I'm concerned," Rivers said. "He just defended and did it over and over and over again. There's a lot of guys that you want to defend; I don't know if Carmelo would be the one you would pick. And for Brandon to do that, basically the entire game until he fouled out, was terrific for us. We needed that one guy to be able to do that."
Bass treats his defensive strategy against Anthony like classified information, often smiling and saying he can't reveal his secrets. It's not really a secret; Bass just tries hard to stay in front of Anthony and uses his combination of size and athleticism to make things as difficult as possible.
"I tried to make him work," the soft-spoken Bass said. "It led to us getting the win."
Bass' defensive efforts have floated below the radar this season. According to Synergy Sports data, Bass allowed 0.756 points per play (536 points on 709 plays) and, among all NBA players with at least 475 defended possessions, Bass ranked seventh overall (teammate Avery Bradley topped that list at a minuscule 0.697, but Bass was in the cluster behind him).
Rivers heaped praise on Bass early in the series, suggesting that he played a "perfect" Game 1. With the team in dire need of ballhandling to aid Bradley, the Celtics moved Jason Terry into the starting unit for Game 3 and Bass struggled a bit in a reserve role. Rivers reversed course Sunday and reaped the defensive benefits.
"[Bass] did a great job," Bradley said. "Me, personally, I think we won the game because of Brandon. All credit to Brandon. He played great defense."
What did Bradley think was Bass' secret?
"Just trying to make everything hard on him," he said. "Melo is a great player. That's all you can do, just try to make everything hard. I feel like Brandon did a great job."
Echoed Kevin Garnett: "Obviously, Melo's going to get a bunch of looks, he's going to get a lot of opportunity at shooting the ball. Guarding a guy who is, if he's not the MVP of the league, is very difficult. He's a handful and I thought BB just did what he could today and I thought he did it consistently."
Read on for more postgame notes, including a Chris Wilcox cameo and Boston's ever-changing guard rotation.
WILCOX MAKES A PLAY
Celtics center Chris Wilcox, used sparingly in his first playoff series as a pro, had a mere 43 seconds of floor time on Sunday and his minus-6 in plus/minus in that span suggests a rather atrocious night.
But it was a half-second cameo late in regulation where Wilcox might have helped his team avoid defeat. After Paul Pierce missed from his elbow sweet spot with a chance to win the game in the final moments of regulation, the Knicks got the ball back with 0.4 seconds to play and a chance for a final shot. With the short clock, New York drew up a potential lob play that had Tyson Chandler looping around the far side of the floor looking for a tip near the rim. But Wilcox used his length to swat Jason Kidd's inbounds pass and usher in the extra session.
Said Bradley: "Huge play. Huge. You always have to be ready. That shows you what kind of professional he is."
LOOSE BALLS: WILLIAMS GET A CHANCE
* Terrence Williams got nearly 11 minutes of floor time in Sunday's game and was up-and-down. On the positive side, Williams had three assists (all three coming in Boston's 32-point outburst in the second quarter) and finished plus-5. The downside? He looked slightly hesitant with his shot, missing both attempts he put up, and finished 1-for-2 at the free throw line. Williams can help this team in small bursts with his steady ballhandling and ability to attack the rim.
* The playing-time roller-coaster ride continues for Courtney Lee, who logged one of four DNP -- coach's decisions on Sunday (Fab Melo, Shavlik Randolph and DJ White the others). After being leapfrogged by Jordan Crawford on the guard depth chart earlier in the series, Lee got 11 minutes of floor time in Friday's Game 3 loss. On Sunday, Lee didn't play and Crawford saw just 6:55 of action (making an early 3-pointer, but missing four of his five shots overall) as Williams got the lion's share of backup guard minutes behind Bradley and Jason Terry.
* The Knicks finished with a 13-2 advantage in second-chance points but it could have been a lot worse. New York finished with 16 offensive rebounds and rarely cashed in on them. The Knicks shot 34.4 percent from the floor and -- outside of Raymond Felton's third-quarter outburst -- really struggled to generate consistent offense (as if the Celtics' offensive plague from the first three games had rubbed off on them).
* The Celtics endured their 17th overtime session of the season. Eleven of their games spilled into overtime during an 81-game regular season, including three double-overtime contests and one triple-overtime battle. Those 16 overtime sessions tied a league record for the shot-clock era.