BOSTON -- Kevin Garnett probably didn't understand the gravity of his statement. Neither did Paul Pierce.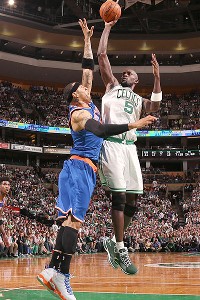 Nathaniel S. Butler/NBAE/Getty
Kevin Garnett at work in Game 4 vs. the Knicks.Not long after Pierce admitted the Celtics sometimes forget about Garnett on the offensive end, Garnett emerged from the training room and stressed that getting shots on offense isn't what's needed from him.
Really?
That is, frankly, ludicrous for a team that's been as anemic on offense as Boston has been for the majority of its Eastern Conference first-round playoff series with the New York Knicks. But for 17 vital minutes of Boston's 97-90 overtime victory in Game 4 on Sunday, it went out the window, as Garnett suddenly emerged as a needed factor on offense and helped propel Boston back into the series.
Garnett finished Sunday's win with 13 points on 5-of-7 shooting, but seven of those came in the fourth quarter and overtime, amid a stretch when Boston's offense once again imploded and the Knicks rallied from a deficit that was as high as 20.
"That's what Kevin has been bringing us when he's out there, when he's not in foul trouble," Pierce said. "But I thought we did a better job of making an effort to go to him. Sometimes we forget about him in the offense, we get too perimeter-oriented taking a lot of jump shots. But Kevin, he's our bread and butter down in the post and we've got to give it to him and play inside-out. Most of the time when we get the ball to Kevin, good things are going to happen."
Garnett did battle foul trouble again on Sunday, but well before that the Celtics failed to establish him on offense the way they've claimed they've wanted to for the entire series. Fortunately for Boston, Garnett didn't need a wealth of first-half looks to knock down three crucial second-half jump shots.
The first was a short fade over Kenyon Martin midway through the fourth. It was a post-up play, and Garnett finally had room to operate.
The next one helped prolong Boston's season. Facing an 84-82 deficit -- New York's first lead of the game -- with just more than a minute to play, Pierce and Garnett went pick-and-pop and Garnett drilled a left-wing jumper that tied the game. Coach Doc Rivers appeared to want a similar play on Boston's final possession of regulation with a chance to win it, but Jason Kidd denied the pass to Garnett on the pick-and-roll and Pierce was forced into a tough isolation elbow jumper over Tyson Chandler that didn't fall.
Then, in overtime, Garnett once again broke the tie, burying a left-corner jumper from Pierce for an 88-86 Celtics lead.
"Once they helped, I saw Kevin wide open," Pierce said. "I knew it was going to be a good shot. I have unbelievable confidence in him as a player and I'll make that play every time."
If the Celtics want to give themselves any real shot of climbing back into this series, they had better be prepared to make those kinds of plays more often. And more consistently. For four quarters. And Garnett needs to be prepared to take them.
"Shots is not a priority for me," said Garnett, who finished a game-high plus-16 in plus/minus. "Being aggressive on offense (is). Obviously when the ball comes to me, I'm trying to be aggressive with my opportunities, but more importantly, getting guys open. Wreaking havoc on defense, being active, those things. Not just the scoring."
Garnett needs to stow away the team-first methodology for a while. Or at least understand that, sometimes, it's in the best interest of the team for him to be taking a higher percentage of the shots.
It's the same strategy Boston has carried into every playoff series since Garnett has been in Boston: They want to feed him early, particularly in the post, and they want him to take the shots. Rivers has floated 20 as a magic number of field goal attempts for him in years past. That number should hold true now, particularly with Rajon Rondo out and Boston's offense the sloppiest it's been in recent memory.
But so far the Celtics have lived up to Pierce's claim of forgetfulness. Garnett took 12 shots in Game 1, a mere nine in Game 2 when foul trouble made him a spectator more than anything else, and 13 in Game 3. Boston somehow survived with Garnett taking just seven shots in Game 4, but his second-half performance needs to stand as a reminder that he's the closest thing to an offensive catalyst that they're going to find as the series shifts back to New York for Game 5.
It's a lot to ask of Garnett, who's still leading the defense and serving as Boston's only true rebounding threat. He grabbed 17 more boards on Sunday -- a game-high -- and it's no secret he's expending a ton of energy trying to ward off Tyson Chandler and Kenyon Martin, who tip balls back out top as often as they haul them in.
But what choice is there? Game 4 proved once again that just when it looks like Boston's offense is starting to click, it can easily plunge back into the depths of chaos. Pierce jumpers and erratic Jeff Green drives to the rim haven't been the answer so far. It's time for the Celtics to turn to Garnett.
If they want their season to continue, they can't afford to forget him.