Boston Celtics coach Doc Rivers despised the idea of trading away Jason Collins when his team moved him at the February trade deadline, but with a glaring need for a bench scorer, Collins became a necessary inclusion in a swap for the Washington Wizards' Jordan Crawford.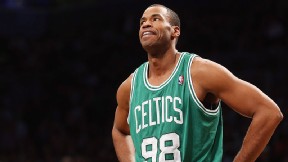 Bruce Bennett/Getty Images
Former Celtics center Jason Collins revealed that he is gay.When Collins returned to Boston in early April as a member of the Wizards, Rivers showered him with praise noting, "He's just honest. And he's honest with the coaching staff, with what he sees, but he's honest with players. Player will complain about something, he'll tell them the truth and a lot of guys don't want to hear the truth."
Jason Collins told the truth in the May 6 issue of Sports Illustrated when he penned a first-person article announcing that he is gay. From SI:
I'm a 34-year-old NBA center. I'm black. And I'm gay. I didn't set out to be the first openly gay athlete playing in a major American team sport. But since I am, I'm happy to start the conversation. I wish I wasn't the kid in the classroom raising his hand and saying, "I'm different." If I had my way, someone else would have already done this. Nobody has, which is why I'm raising my hand.
Rivers on Monday applauded the announcement.
"I am extremely happy and proud of Jason Collins," he said in a statement released by the team. "He's a pro's pro. He is the consummate professional and he is one of my favorite 'team' players I have ever coached. If you have learned anything from Jackie Robinson, it is that teammates are always the first to accept. It will be society who has to learn tolerance. One of my favorite sayings is, 'I am who I am, are whom we are, can be what I want to be it's not up to you, it's just me being me.'"
Signed to a one-year, veteran-minimum contract last summer, Collins appeared in 32 games for Boston, including seven starts. The biggest number in his stat line was his fouls per game (2.3) and he averaged 1.2 points and 1.6 rebounds over 10.3 minutes per contest.
The Celtics had hoped to retain Collins, but Chris Wilcox used his impending Bird Rights to veto a deal that would have sent him and Leandro Barbosa to Washington in exchange for Crawford. With really no other option, Boston reluctantly sent Collins instead of Wilcox.
On the day of the swap, Rivers said, "Let me just say this: We lost a very important guy in our locker room in Jason. You take away that, and then you add something else. You just never know with your locker room. That was difficult for me. Because... I protect my locker room. To let a guy go like that out of your locker room, for me, that was hard to do. Really hard. And honestly, if Barbosa doesn't go down, it wouldn't have happened. But he did go down, and we had to do something."
Before that April visit, Rivers continued to praise Collins, whose twin brother Jarron played with him at Stanford and was drafted in the same class.
"He literally is one of the best -- I've said it before -- he's one of the best guys I've ever had in the locker room, player or coach. He is," said Rivers. "It's funny, I didn't know him very well until we got him, I literally didn't. I used to call the two twins, I just called them the same name -- Jason -- both of them because I didn't know which one was which. He's just good. He's a good guy and what he says is the truth."
In his essay in Sports Illustrated, Collins said the recent marathon bombings impacted his decision to come out.
The recent Boston Marathon bombing reinforced the notion that I shouldn't wait for the circumstances of my coming out to be perfect. Things can change in an instant, so why not live truthfully? When I told [former Stanford roommate and current Massachusetts congressman] Joe [Kennedy] a few weeks ago that I was gay, he was grateful that I trusted him. He asked me to join him [at Boston's Gay Pride Parade] in 2013. We'll be marching on June 8.
Ironically, two days after he gushed about Collins in that visit from the Wizards, Rivers was asked what would happen when a current professional athlete came out amidst news that four NFL players were considering doing such as a group.
"Nothing. I really don't think anything," said Rivers. "I think it'll be a lot of talk about it and then I think it'll go away. It's funny, we, as a team, I took the team to see '42' yesterday and, there was a lot of talk, and then all of a sudden everybody started playing. And I think the same thing will happen. So that's the way I look at it."