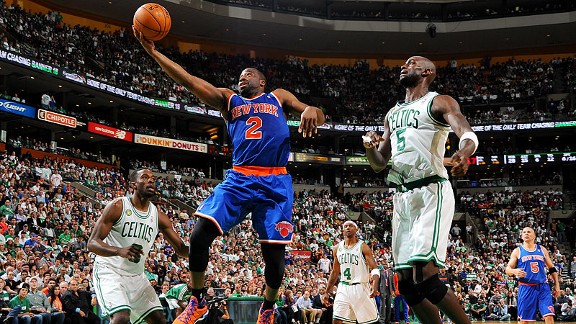 Brian Babineau/NBAE/Getty Images
The Celtics need to stop Raymond Felton to have success in Game 5.The Boston Celtics visit the New York Knicks on Wednesday night in Game 5 of an Eastern Conference first-round series at Madison Square Garden (7 p.m., TNT). The Knicks lead the series, 3-1. Here's what to watch for:


* WINNING ON THE ROAD: Back in a hostile New York environment, the Celtics know the Knicks will be searching for an early knockout punch on their home turf. "We just have to come out ready to play," said Celtics coach Doc Rivers. "They are at home, they are going to try to feed off their crowd and all that. But at the end of the day, it's going to be between the lines. And it's going to be what they do, it's not going to be what anybody out in the crowd says or does. It's going to be between the lines." Echoed captain Paul Pierce: "They're going to amped up, their crowd is going to be emotionally into it. They feel like they've got an opportunity here at home, so I think that's going to be the early focus, is to withstand their early run. We know that we're going to take hits, but we've got to be able to hit back in the early stages, and we've got to maintain that through the four quarters."
* J.R. IS BACK: The Celtics took advantage of the absence of J.R. Smith during Sunday's Game 4 victory, but he's back after a one-game suspension for elbowing Jason Terry. Asked what kind of impact he expects Smith's return to have on New York, Terry said, "Hopefully none. If he comes out here and gets hot early, then it's going to be a long night for us. I'm looking forward to the challenge, as are my teammates." Smith, the league's Sixth Man of the Year, is averaging 16.3 points on 43.5 percent shooting in three games this series.
* IGNORE THE NOISE: From Smith's brash prediction that this series would be over if he had played in Game 4, to Kenyon Martin telling his teammates to wear funeral attire, Celtics center Kevin Garnett said he's tried to ignore all the noise. "I have not paid attention to none of the shenanigans," said Garnett. Pierce downplayed Martin's fashion advice, noting, "This is basketball. I'm not going to be dead after the game."
* ONE POSSESSION AT A TIME: Rivers has preached a one-game-at-a-time philosophy after his team lost the first three games. But now he's stressing an even narrower focus: One possession at a time. "Really, I think that's what you should do every game," said Rivers. "Obviously, it's easier to do in the playoffs, because you do have single-game focus. But I do think, to be really great, you have to get to not only one quarter, but one possession at a time. And play forward, and not play in reverse. I think that's where players get lost -- if they have a couple bad possessions and they are thinking about that, or thinking about the last game and the team made a run on them. You can't do that. It's hard, but you just can't. You have to play to the next possession, then the next possession, then the next possession. And that's difficult to do, but it's what you have to do."