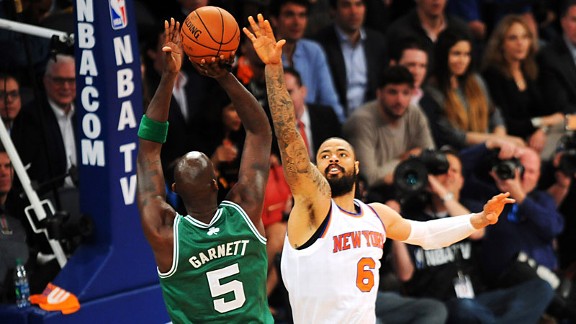 Joe Camporeale/USA TODAY Sports
Kevin Garnett gets up a first-quarter shot against Tyson Chandler.NEW YORK -- Analysis from the Boston Celtics' 92-86 defeat of the New York Knicks in Game 5 of an Eastern Conference first-round series on Wednesday evening at Madison Square Garden. The Knicks lead the series 3-2:


The nitty gritty: Jeff Green scored a team-high 18 points to pace five Celtics players in double figures, including Jason Terry with 17 points (five 3-pointers) off the bench and Paul Pierce with 16 points after overcoming early struggles. Kevin Garnett finished with 16 points and a team-high 18 rebounds. Carmelo Anthony scored a game-high 22 points on 8-of-24 shooting, while Raymond Felton added 21 points, six rebounds and four assists. J.R. Smith, back after a one-game suspension for elbowing Terry in Game 3, was a nonfactor for much of the night (and maybe even a liability) as he missed his first 10 shots. Smith finished with 14 points on 3-of-14 shooting after hitting a trio of late-game triples.
Turning point: In a one-possession game midway through the third quarter, the Celtics embarked on a 16-4 run spanning into the fourth frame. Pierce and Terry hit 3-pointers late in the third as Boston stretched its lead to nine, but the Celtics opened the fourth on a 6-0 burst that culminated with a vicious one-handed flush by Green that pushed the Celtics out front 75-60 with 9:05 to go. A feverish late-game rally saw the Knicks pull within five (88-83) with 65 seconds to play, but Garnett hit a tough jumper to help fend them off.
I'm still standing: The Celtics reserves typically stand until Boston's first made basket of the game. Still standing four-plus minutes in as the Knicks built an 11-0 run, the backups settled for when Brandon Bass -- the early hero of the game for Boston -- made a free throw to break up the shutout with 7:32 to play in the first quarter. The Celtics managed to trim their deficit to two at the end of the frame, and a more inspired second quarter had them up six at halftime as the momentum swung in their favor.
Technical difficulties: Smith and Terry -- involved in the Game 3 dust-up that got Smith ejected and later suspended for Game 4 for a flagrant foul 2 elbow -- renewed pleasantries and were assessed double technicals with 6:45 to play in the game. Earlier in the game, referees initially assessed Kenyon Martin with a flagrant foul for hammering Garnett. Upon video review, it was downgraded to a personal foul.
What it means:
Well, we appear to have a series again. With their backs to the wall after losing the first three games, the Celtics responded with back-to-back wins. As Doc Rivers will certainly point out now, this is as close as a series can be after five games. Boston has to like its chances of evening things up when the series returns to Boston for Game 6 on Friday night at TD Garden. But it's still an uphill climb for the Celtics and one that will require winning in New York again on Sunday if they can force a Game 7. But Boston is playing with renewed confidence after these two wins and has put New York on its heels.