NEW YORK -- Based on the way things had already unfolded, perhaps it shouldn't have been surprising that Brandon Bass hit what head coach Doc Rivers deemed the "biggest shot of the game" in the Boston Celtics' 92-86 Game 5 victory over the New York Knicks in their first-round playoff series Wednesday.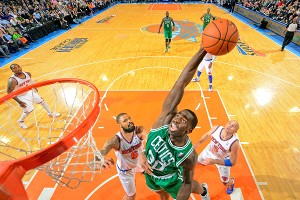 Jesse D. Garrabrant/NBAE/Getty Images
Brandon Bass skies against the New York Knicks.Boston had built a 75-60 lead with just over nine minutes left in the fourth quarter, but it then sank into one of its dreaded offensive droughts, as the Knicks clawed back within eight over the next three minutes. The C's were coming off of back-to-back turnovers when Bass took a Terrence Williams pass in the right corner, dribbled hard toward the lane against Tyson Chandler, spun back to his right, and put in a fading bank shot over Chandler's outstretched arm.
The shot restored order for the Celtics, who closed out the Knicks from there and cut New York's series lead to 3-2.
"I thought Brandon Bass -- I thought the bank shot he made was probably the biggest shot of the game, because we were leaking a little oil in that stretch, and that kind of settled us down," Rivers said.
But that shot wasn't the only instance of Bass bailing Boston out on Wednesday.
The Celtics expected the Knicks to come out strong with a chance to close out the series at home, and, sure enough, New York sprinted out to an 11-0 lead, as Boston missed its first five shots -- all perimeter jumpers. The C's needed someone to kick start the offense, and Bass managed to start scoring during a period when no one else seemed capable of doing so.
Bass' first shot could have been one of his typical jump shots, but he ditched the perimeter in favor of a drive toward the basket and drew a foul along the baseline.
Bass sank both free throws for Boston's first points of the game, nearly five minutes in. He then picked off a Raymond Felton pass and dribbled the length of the floor for a two-handed slam. Less than three minutes later, with Boston moving in transition, he sliced toward the rim along the left baseline and took a nifty wrap-around feed from Kevin Garnett, went up-and-under, and converted a layup while drawing a foul on Chandler. After the free throw the Celtics were suddenly only down 15-9.
And Bass wasn't done. On Boston's very next possession he paired with Garnett again, this time receiving a long outlet pass on the fast break and skying to the rim for a loud two-handed dunk. And just like that, Boston was only down 15-11. The C's had hunkered down behind Bass and weathered the opening storm.
"It'll be like that some nights," Bass said of the team's slow offensive start. "We just wanted to keep it going. We needed to keep doing what we normally do."
Bass' offense had taken a back seat to his defense for much of the series. He emerged as the Celtics' first line of defense against Carmelo Anthony and entered Wednesday's win averaging just 4.3 points and 4.0 field goal attempts per game. He finished Game 5 with a personal series-high 17 points on 6-of-7 shooting from the field and a flawless 5-of-5 mark from the free throw line.
After Bass chipped in nine of Boston's first 11 points, his teammates finally got in on the scoring act. Paul Pierce heated up, Jason Terry knocked down jump shots, and Garnett asserted himself when he had the ball.
But when things ground to a halt midway through the fourth, and it looked like the Celtics might squander their 15-point cushion, Bass once again found a way to score when none of his teammates could manage it. Amid a near four-minute scoreless stretch, Boston needed that one basket to right the sinking ship, and Bass -- just like he did in the first quarter -- provided the shot in the arm and propelled Boston back into the series.