NEW YORK -- Jeff Green sat before a group of reporters on the Madison Square Garden sideline, two days after the Boston Celtics fell to the New York Knicks in Game 1 of their Eastern Conference first-round series, expecting the inevitable talk of adjustments and further explanations for Boston's 85-78 loss.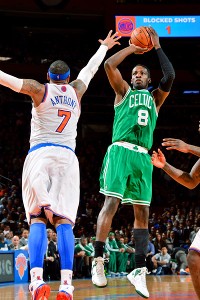 Jesse D. Garrabrant/NBAE/Getty
Jeff Green rises up for a jumper over Carmelo Anthony.But at one point Green received a curveball, as he was informed that head coach Doc Rivers felt he had played too many minutes in the opening tilt, which may have contributed to Boston's downfall. Green logged a team-high 46 minutes that day, spent time guarding New York's Carmelo Anthony, and chipped in a team-high 26 points. But only six of those points came after halftime and he did little to prevent the implosion of Boston's offense. Rivers later suggested fatigue played a role in Green's shaky second-half effort.
Green didn't agree with his coach, though, as he quickly brushed the comments aside and declared the following:
"I've just got to do it," he said. "I've just got to play through the fatigue. I've got to continue to look for mine, basically. There's no excuses now. I want to be out there, I want to compete. I want to play against the best. I want to guard Carmelo, I want to do it all. It's just something I've got to get through."
And that was just the beginning of what has become evident over the course of this series: Jeff Green wants to be the player everyone in Boston is hoping he can be.
Including the playoffs, Boston has played 86 games this season, and Green has appeared in every one of them. It's no small feat for a player who missed all of last season after undergoing career-threatening heart surgery. But his return to the court in the wake of his operation didn't taper the lofty expectations set for him. Green endured a season of criticism -- some constructive, some not -- from virtually every corner: the fans, his head coach, general manager Danny Ainge, even his teammates at times. He was too passive. He didn't show emotion. He didn't attack the basket with regularity. The complaints -- some justified -- kept pouring in.
But midway through the season Green turned something of a figurative corner. He eventually found a home in the starting lineup and became a presence on both ends of the floor. He averaged more than 15 points per game for the final three months of the regular season, posted his finest rebounding numbers of the campaign, shot well from the floor and from 3-point nation, and even chipped in two game-winning shots. Suddenly there was a feeling of optimism enveloping Green.
It's carried into the postseason -- a time when teams lean extra hard on their stars. And that's how the Celtics are regarding Green. Alongside Paul Pierce and Kevin Garnett, he's one of their stars, and, no matter how this series with the Knicks ends, it'll likely go down as a key stage in Green's development moving forward.
Green isn't being asked to be The Guy for Boston yet. That won't likely happen as long as Pierce and Garnett -- both in the twilight of their careers -- still have a say in things. But right now, if Pierce and Garnett are Options 1 and 1A, Green is Option 1B, and it's the first time in his career he's truly had a share of the driver's seat. The road's been rocky at times -- Boston at one point being down 3-0 in the series is proof of that -- but there have been plenty of moments that suggest smoother roads lie ahead for the 26-year old.
"I never had the opportunity in Oklahoma to do this," Green said. "When I got traded here I never had the opportunity to do it. So this is my first time actually being the focus. So I'm having fun with it. It's a learning experience. I'm not going to be perfect. I'm not going to do some things right, but whatever I get to do these playoffs, I'll learn from it and go into the summer know what I've got to work on."
Through five games, Green is averaging 20.2 points, 5.4 rebounds, and 2.6 assists per game, while shooting 45.2 percent from the field and 47.1 percent from 3-point nation. And, at the same time, he's starting to shed some of the criticisms that plagued him throughout the regular season.
You want the emotional Jeff Green? The one who slaps the padded basket after drawing a foul, yells passionately to the TD Garden crowd, and gives the bewildered reaction when a whistle goes against him? You're getting him. You want the Jeff Green who attacks the basket relentlessly? You're getting him, too. Thirty-six of Green's 73 shots in the series have come in the paint. You want the Jeff Green who embraces the spotlight and the bigger moments? He's here as well.
"You have the ball. That's the main thing," Green said of the difference between his role now and his roles in the past. "You're not sitting on the bench or you're not just standing in the corner being a decoy. Now you're being a playmaker, trying to figure out ways you can help your team, and I think that's the most important thing."
The jury's still out on whether Green will eventually emerge as a true go-to player for Boston. But there's been enough evidence over these first five games to suggest that not only is he hoping to reach that level, but that it's possible he's capable of doing so. The playoffs are where reputations are forged and the toughest lessons are taught. So what better time for Green to be handed one of the keys to the car?
"It's tiresome. You get very tired," Green said with a laugh when asked what he's learned from this experience so far. "I've never been in the position, so I didn't know what to expect. But it's fun. If you're a competitor, you're going against Carmelo, you have to make him work. So for me, I take it all in excitement and I love the opportunity I've been given. I'm making the best of it.
"I've been working hard. The playoffs are where players are made. Hopefully people are starting to take notice of what I can do. I know what I can do. I don't care what other people think. It doesn't matter to me. I'm just trying to win games and win for my team."
There have been plenty of questionable moments for Green so far -- he disappeared on offense in the second half of Game 1, he was virtually a nonfactor with just 10 points in Game 2, and some of his drives toward the basket have been erratic and out of control -- but the good has outweighed the bad. His fourth-quarter performance in Wednesday's pivotal 92-86 Game 5 victory likely tipped the scale by itself.
The Celtics were clinging to an 80-71 lead with under four minutes remaining. Boston needed to keep its foot on the gas, attack the basket, and possibly make it to the free throw line. It wasn't a time for contested mid-range jump shots. Green had 10 points at that juncture, and, moments earlier, he had delivered one of his thunderous slam dunks. So everyone knew he was Boston's best candidate for an assault on the rim. And, sure enough, he took a short Garnett outlet pass along the right side line, proceeded up the floor, saw an opening, accelerated to the basket, and drew a foul on Tyson Chandler.
Green made both free throws -- a quick warm-up for his biggest baskets of the game. On Boston's next two possessions, Green, from the same spot on the left side, buried back-to-back 3-pointers that restored the Celtics' lead to double figures with 2:24 to play. There was no hesitation on Green's part. He just rose up and buried the shots. He finished Wednesday's win with 18 points -- 10 coming in the fourth quarter -- on 5-of-8 shooting from the field, 2-of-2 shooting from 3-point nation, and a flawless 6-for-6 mark from the free throw line.
"I told Jeff tonight just to be patient," Jason Terry said. "Paul had it going early, went inside to KG, I made a couple shots. But I knew if they continued to double Paul, Jeff would loosen up, and he had some key baskets. I mean, the dunk down the lane, two 3s at the end of the shot clock. You know, those are tremendous baskets. His confidence should be very high after that."
Green's confidence level could easily determine whether or not the Celtics tie this series on Friday. But he knows sticking to his strengths gives him and the Celtics the best chance of succeeding.
"I've just got to continue to do me," he said. "I can't change who I am, I can't change my game or try to do nothing I can't. I have to continue to be aggressive, continue to attack the rim. That's what I'm best at. And my shots will fall. So I've just got to continue to take them. But my go-to thing is get it in transition and attack. That's what's been working, so why stop there?"
Boston stands a real chance of extending this series, but whether this postseason run ends this weekend or a month from now, Green is already regarding this battle with the Knicks as something of a turning point for him.
"I have to. I look at it that way each game that I've played this year," Green said. "It's been monumental for me to play every game, to improve like I did throughout the season, and I'm just enjoying it. Who knew I would've had the opportunity to do this a year and a half ago, or a year ago, basically? So I'm enjoying it."