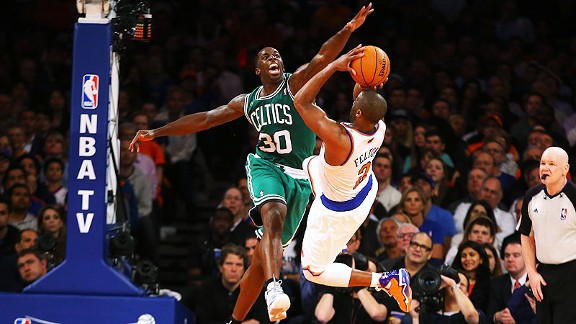 Al Bello/Getty Images
Brandon Bass is making a defensive impact this series for Boston.The Boston Celtics host the New York Knicks on Friday night in Game 6 of an Eastern Conference first-round series at TD Garden. The Knicks lead the series 3-2. Here's what to watch for:


* HOME SWEET HOME: The Celtics have played some of their best basketball this season at TD Garden (notwithstanding a Game 3 loss to the Knicks). Boston players seemed genuinely excited to see how the Garden crowd will react with the team owning a chance to even this series. "The crowd is going to be amazing. I already know it," Avery Bradley said after Game 5 in New York. "Real emotional. I can't wait. We can't wait. We can't wait to go back home and play and take it to Game 7." Added Jason Terry: "It's going to be a Game 7 atmosphere. It's the last one at home if we don't take care of business. So I imagine our fans are ready, they're fired up, and a warm welcome."
* KEEP DEFENDING THE 3-POINT LINE: From our friends at ESPN Stats & Information: The Knicks are shooting 23.1 percent on 3-pointers in the past two games (12-of-52) after connecting on 38 percent in the first three games of this series. But New York has really struggled beyond the arc in the fourth quarter of this series, connecting on just 15.8 percent (6-of-38, with half of those makes coming in the final moments of Game 5). The Celtics, meanwhile, are quietly shooting 34.3 percent beyond the arc in the series, including 43.2 percent the past two games. "We're not a bad 3-point shooting team," Celtics coach Doc Rivers said after Game 5. "I kept telling our guys, when you get them, take them. I kept telling them to let it fly."
* SOMETHING IN RESERVE: During the first three games of this series, the Knicks' bench outscored Boston's reserves by 57 points (90-33). Since then? Boston's backups own a plus-16 differential in the Celtics' two wins. Considering Boston ran with a two-man bench (Jason Terry, Terrence Williams) last time out, it shows the impact Terry is now having on the series. Meanwhile, after sitting out Game 4 due to suspension, New York guard J.R. Smith missed his first 10 shots in Game 5.
* NOTHING FOR FREE? The Celtics own the best free throw percentage in the playoffs at 88.5 percent, while the Knicks are at 74.2 percent. In a series in which points have been hard to come by, Boston is making the most of its trips to the charity stripe. In fact, the Celtics were 17-for-17 from the foul line in Game 5 on Wednesday and converted all 19 of their free throw attempts in Game 1. According to the Elias Sports Bureau, Boston is the first team in NBA history to have two perfect games from the foul line in one postseason.