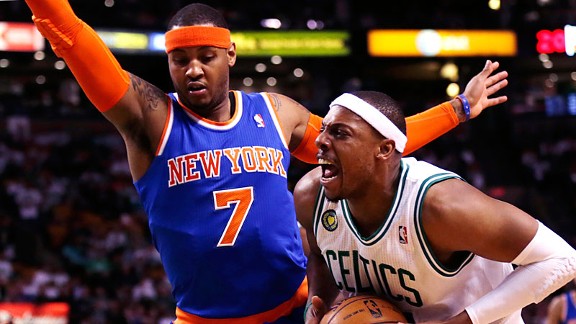 AP Photo/Charles Krupa
Paul Pierce and the Celtics went down swinging against the Knicks.BOSTON -- Rapid reaction after the New York Knicks defeated the Boston Celtics 88-80 in Game 6 of an Eastern Conference first-round series on Friday night at TD Garden. The Knicks win the series, 4-2:


THE NITTY GRITTY
Carmelo Anthony scored a team-high 21 points on 7-of-23 shooting to go along with seven rebounds and five assists, while Iman Shumpert added 17 points on 6-of-9 shooting with six rebounds and two steals (including a big late-game swipe to thwart Boston's improbable rally). Jeff Green scored 21 points to pace Boston, while Kevin Garnett added a double-double (15 points and 10 points) and Paul Pierce battled shooting woes (4-of-18 overall) while chipping in 14 points for the Celtics.
AN IMPROBABLE RALLY COMES UP SHORT
The Knicks were up 26 (75-49) with 9:49 to play, but the Celtics scored the game's next 20 points over a furious four-minute span and ultimately surged within four (77-73). The Celtics made 7 of 8 shots over an initial 24-2 burst, including three buckets from previously shell-shocked Avery Bradley, while Green scored 10 points to fuel the run. It might have been Shumpert's steal of a lazy Pierce pass that sealed Boston's fate as he finished the layup at the other end (Anthony busted a late-series 3-point slump with a big triple in the closing moments).
C'S DUG TOO BIG OF A HOLE
The Knicks embarked on a 16-1 run early in the first quarter, capped by consecutive 3-pointers by Pablo Prigioni, to put New York out front 21-5 with 4:26 to play in the frame. Midway through the second quarter, New York was up 18 and Boston's starters not named Garnett (3-of-4 shooting, 6 points to that point) were an impossible 1-of-19 shooting for a measly six points. Pierce missed nine of his first 10 shots, including five 3-pointers, while scoring two first-half points.
TECHNICAL DIFFICULTIES CAN'T AID C'S RALLY
The Knicks seemed to be in implode mode as a Jason Terry 3-pointer cut the Knicks lead to 10 with 4:37 to play in the third quarter and Raymond Felton got tagged with a technical foul after a turnover on the ensuing possession. But Terry missed the free throw, Garnett missed a turnaround jumper, and Felton responded with a 3-pointer from the top of the arc to stop the bleeding. After an offensive foul on Garnett, Shumpert hit a 3-pointer and did Terry's trademark jetway celebration as New York went up 61-45. The lead ballooned as high as 26 before Boston made an honest-to-goodness fourth-quarter charge.
SILVER LINING: AVERY FUELS COMEBACK
Bradley's head-shaking postseason seemed set to end with him getting an early third-quarter hook. In 17:22 of floor time to that point, Bradley was minus-22 in plus/minus, missing both shots he took and owning more turnovers (1) than assists (0). Bradley's confidence seemed shattered this series, and offensive woes -- coupled with an inability to slow series MVP Raymond Felton -- left him a shell of his usual lockdown-minded self. But he might have saved himself an offseason of therapy by helping to spearhead Boston's late-game charge with bursts of his old self at both ends of the floor. Bradley finished with 10 points, three steals, two rebounds and an assist over 27:05 and was a mere minus-4 by the end of the game.
WHAT IT MEANS
If this is the end of the Garnett and/or Pierce era -- and we'll have plenty of time to debate that over the next couple months -- they went out with a bang when most of the game suggested a whimper. The Celtics -- in typical Garnett-era fashion -- put up a valiant fight trying to extend their season, but dug themselves too deep of a hole (both in the game and in the series). A murky offseason awaits after a first-round exit with many tough decisions ahead for Celtics president of basketball operations Danny Ainge.