BOSTON -- You knew they weren't going down without a fight.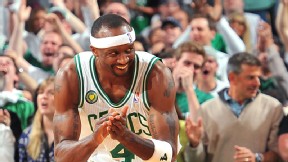 Brian Babineau/NBAE/Getty Images
Jason Terry and the Celtics nearly pulled off an epic comeback in Game 6 vs. the Knicks.Hopes of a Game 7 between the Boston Celtics and New York Knicks in an Eastern Conference first-round series looked to be dashed with 9:49 remaining in Friday's Game 6 with New York owning a 26-point lead that appeared insurmountable. At that point, the Celtics had more turnovers (18) than field goals (15) and their offense was lifeless. Paul Pierce was suffering through an abysmal 2-of-14 shooting performance. The Celtics had every reason to quit.
But they didn't. Even with the end of the season breathing down their necks, facing a deficit almost too great to fathom with such little time remaining, the Celtics dug back in and started scrapping.
And, in what felt like the blink of an eye, they found themselves back in it. Over the next 5:04 the Celtics embarked on a mind-blowing run that saw them score 20 straight points and brought them within six (75-69) with 5:44 remaining. They whittled it down to four (77-73) a little more than a minute later but couldn't quite make it over the hump, eventually falling 88-80 and losing the series 4-2.
"Just stay in it," Celtics coach Doc Rivers said when asked what he told his team when it was down 26. "We've been thinking it all year. That's what I had to do. They wanted to play well and they didn't. But they wanted to play well. And you could feel that, during that stretch. As a coach, I could feel them down because of how they were playing. And, listen, they knew how they were playing. They know they're better than what they played. And I was just trying to get them to hang in there and believe that they could. And it worked out -- almost worked out."
Realistically, the fate of the Celtics' season was essentially sealed the second they fell behind 3-0 in the series to New York. But just as they clawed their way back into the series with back-to-back wins in Games 4 and 5 -- putting the idea of the impossible in everybody's minds in the process -- they stormed back Friday night at a blistering pace, turning a surefire New York blowout into an all-out dogfight to the finish line.
"We were just trying to grab some momentum and just fight," Kevin Garnett said. "You know, we're at home, we played very well here, we had a lot of energy. Obviously, our fans are the greatest, and we were just trying to push for the last time. It's what it was. We all said we wanted to leave it out here on the floor, and I thought we did that."
Avery Bradley and Jeff Green paired up for nine straight points to ignite the run and cut New York's lead to 17 with 7:45 remaining, enough to raise the hopes of the TD Garden faithful.
And then Bradley went to work on defense. Nearly redeeming himself for how ineffective he was on both ends of the floor for much of the series, Bradley suddenly re-emerged as the defensive stalwart capable of swinging a game's momentum in his team's favor. He swiped the ball from J.R. Smith and converted a layup; 15-point game. He disrupted New York's ensuing inbounds pass, giving Boston another possession that resulted in a Pierce 3-pointer; 12-point game. Less than a minute later, he swiped an entry pass to Carmelo Anthony, was fouled and knocked down two free throws; 7-point game.
Suddenly, the impossible didn't just seem doable, but probable.
"I just tried to pick up my defensive intensity, get everybody going," Bradley said. "I feel like the steals fired everybody up, and we just rallied and started playing transition basketball, which is one of our strengths and helped us come back."
Green sliced the lead to four via two free throws just more than two minutes later, but the Celtics wouldn't get any closer. The comeback -- so thrilling, so captivating -- was a fleeting one, as the issues that put Boston in a 26-point hole in the first place suddenly reared their ugly heads again and closed the door on the Celtics' season.
Green was charged with an offensive foul -- Boston's 20th turnover of the game -- Tyson Chandler grabbed a key offensive rebound that gave New York an extra possession and took valuable time off the clock, and the Celtics made just two of their final six field goal attempts. Anthony drilled a 3-pointer, J.R. Smith added a layup and Boston's rally reached its end.
"I thought we had a shot," said Pierce. "We had the lead down to about four with like two or three minutes to go, which is plenty of time. But sometimes it didn't go your way. I think we fouled Carmelo, we turned the ball over, they got an offensive rebound. So when you try to make a comeback of that size, everything has to be kind of perfect for you. It was nearly perfect for us, but we just ended up short."
It's a thin silver lining at best, but the Celtics can reflect on their playoff exit with a measure of pride. They went out on their own terms. Though New York dictated much of the proceedings in Game 6, Boston finally found a way to have its own say. The C's could have keeled over and absorbed a margin of defeat that easily could have grown past 30. Instead, they battled back, embodying the talk of pride and grit and scrap that held them together this season, even as ravaging injuries and other adversity threatened to tear them apart.
"The fact that we had the chance to win that game being down [26], with one timeout left, it was amazing," said Rivers. "It was amazing to see and great for our crowd that came to cheer for us. And we really didn't give them anything to cheer about until then. And so that was nice."
There won't be another banner added to the rafters for a failed Game 6 comeback. Rings won't be crafted because of what transpired Friday night. But in a series -- one that was something of a microcosm of the entire season -- in which defeat was all but guaranteed, the Celtics found their roots and did what everyone should have expected them to do.
Though it ultimately wasn't enough in the game or the series, these Boston Celtics made one thing clear: They weren't going down without a fight.