Each year after the Celtics' season ends, we play a game of Take 'Em or Leave 'Em to determine which players the team should retain -- and which ones should be sent packing -- for next season. You can vote in this year's polls by hopping HERE.
Below are longer explanations for our decisions (sometimes five words just isn't enough to elaborate in the main piece). For the purpose of this year's exercise, we ran with the idea that the Celtics would bring back veterans Paul Pierce and Kevin Garnett. While many have expressed a desire for Celtics president of basketball operations Danny Ainge to dismantle this roster, we subscribe to the notion that the shred-the-team path won't be particularly easy to do. That's not to say that Boston won't explore trade avenues before -- and during -- the 2013-14 season, it just seems that one of the clearer paths to roster turnover, while still remaining competitive, actually involves keeping the veteran core intact for season seven of a three-year plan.
By bringing back Garnett and Pierce, and making some tweaks, Boston can stay in the mix, while still maintaining long-term flexibility. And both Garnett and Pierce might have even more value when the trade deadline rolls around as contenders might be willing to pay a steeper price than what Ainge will find this summer.
Sure, you can go the nuclear route, but does it make sense to eat $5 million on Pierce, when it will offer little in terms of cap relief? Ultimately, Ainge might elect to go this route because you can't guarantee health with this core and a first-round exit hammers home the flaws of this team. But a roster with Pierce and Garnett as its third and fourth options -- as opposed to carrying the Celtics on a night-to-night basis -- has potential to be a contender.
With that in mind, read on for our detailed Take 'Em or Leave 'Em explanations: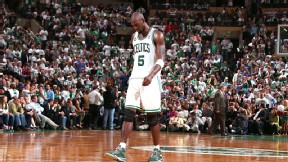 Nathaniel S. Butler/NBAE/Getty Images
Do you want to see Kevin Garnett back? We play a game of Take 'em or Leave 'em.* Garnett -- Take 'em -- At age 37, he can't give you much more than 30 minutes per night in the regular season and you worry about injuries (like the ankle inflammation that hindered him at the finish line of the 2012-13 campaign). But Garnett's defense (and the rebounding he showcased in the postseason) is so vital to this team's success. Plus, he's the conscience of the entire Boston organization. At a reasonable price tag ($12.4 million), Garnett is simply too valuable to give up just to get younger.
* Pierce -- Take 'em -- This has nothing to do with sentimentality. Unless Pierce is retiring at age 36 -- or taking a hefty paycut on his next deal -- he's probably finishing his career in another uniform. The Celtics will cringe at the idea of paying him $15.3 million, but you know what's worse? Paying $5 million to not have your best all-around player. If the Celtics elect to move on, they either need to find a worthwhile trade or go the amnesty route (they'll have to likely pay more than the $5 million buyout would cost, but would get some relief when he signs elsewhere). Remember that Pierce was still the regular-season MVP of this team.
* Rajon Rondo -- Take 'em -- Even if Pierce and Garnett do not return, it would appear Rondo is a building block for the future, in part because of that cap-friendly $11.9 million salary. Is he the foundation? No, he probably needs a legit big-man counterpart to really thrive. But he's a low-cost All-Star who's still on the rise and the Celtics saw just how valuable his presence is during the postseason.
* Jeff Green -- Take 'em -- Green emerged as a 20-point, 5-rebound guy in the postseason this year. While he was prone to some quiet stretches, it's clear that he can be an impact player, particularly on the offensive end, where Boston is desperate for his ability to attack. Consistency is the key for the 26-year-old Green moving forward, but after all the hand-wringing about his contract, this deal looks favorable for Boston, particularly if Green can ascend to being an Option 1 (or at least 1B) player for the Celtics. Green's development does give Boston more fuel to consider moving on from Pierce.
* Brandon Bass -- Take 'em -- Bass lost his starting job multiple times during the season (including a game in the playoffs), but he might have actually been one of the team's most consistent presences in the second half of the season (and his postseason defense on Carmelo Anthony was excellent). Bass could be headed back to a reserve role if rookie Jared Sullinger can rebound from back surgery. Regardless, Bass is a nice luxury, even at $6.5 million for next season. The only way you ponder a trade is if minutes at the power forward spot become tough to split up.
* Courtney Lee -- Take 'em -- Wrestled with this one a bit. On the one hand, Lee struggled mightily this season and never really carved out a role (leading to postseason DNPs). On the other hand, his trade value is low and it's hard to imagine him playing for a fifth team in six NBA seasons. Lee offers luxury guard depth if Rondo isn't ready for the start of the regular season. Lee could be an in-season trade asset as he'll be earning $5.2 million -- too much for a player who averaged just 9.8 minutes per game in four postseason appearances.
* Jason Terry -- Leave 'em -- Terry brought veteran experience, confidence and locker room leadership. But the fear is that the 35-year-old simply can't sustain what he showed over the final four games of the playoffs. His regular-season struggles and a $5.2 million contract should make the Celtics consider the trade market (he does have a trade kicker that will make that avenue a tiny bit tougher to navigate). If the trade market is cool for Terry, it might force Boston to ponder a Lee deal more.
* Avery Bradley -- Take 'em -- His confidence took a jolt against the Knicks -- though Bradley finished on the upswing in the fourth quarter of Game 6. Bradley should really benefit from having Rondo back, taking away the point-guard duties that weighed him down in the postseason. Still only 22, Bradley is in line for a new deal soon (the team holds a $3.6 million qualifying offer for the 2014-15 campaign).
* Chris Wilcox -- Leave 'em -- The Celtics already tried to ship Wilcox to Washington at February's trade deadline and he won't have an ability to veto a move this time around. Six minutes of floor time in six playoff games -- his first playoffs of his professional career -- sums up his value to Boston. A valuable offensive player, Wilcox's struggles on defense sealed his fate.
* Jared Sullinger -- Take 'em -- While Boston's offensive woes left us all focusing on how much the team missed Rondo, the Celtics really missed Sullinger too (he had just ascended to a starting role in early February before his back injury flared). If healthy, Sullinger provides a low-cost, starter-caliber player whose skill set filled some of the Celtics' most glaring needs (most notably his offensive rebounding).
* Fab Melo -- Take 'em -- Year 1 of Melo's NBA development seemed to stall a bit with a concussion in late December. But he came with the label of long-term project and his transition to the pro level is going to take time. Melo turns 23 in late June, but he'll still be brought along slowly as long as the Celtics have depth up front.
* Jordan Crawford -- Take 'em -- If he didn't open his mouth after the final buzzer in Game 5, this is probably an even easier decision. But Crawford's reputation precedes him and Boston will be open to swapping out wild cards if they find something comparable to their liking. Crawford's $2.1 million salary could be trade bait later in the year if he struggles to carve out a consistent role, but the guess here is he's back to start the season.
* Shavlik Randolph -- Take 'em -- Easiest one on the list, right? Randolph's insatiable appetite for rebounds and a friendly contract ($1.1 team option) makes this a no-brainer. With Randolph under Boston's control this offseason, the team won't get Stiemsma'd by a bidder with more available dollars.
* D.J. White -- Leave 'em -- Not sure we saw enough in 86 regular-season minutes to form much of an opinion, so White could sway the team with a strong summer. But if the Celtics do elect to keep much of their roster in place, White's spot could go to another minimum player or one of Boston's possible exceptions (midlevel, biannual).
* Terrence Williams -- Take 'em -- There's a reason Williams was out of the league at the start of last season and his attitude still probably rubs some the wrong way. But there's talent -- and low-cost talent, no less. Williams' ability to provide point guard depth makes him even more valuable, especially after he emerged as a rotation-caliber player in the postseason.
* Doc Rivers -- Take 'em -- When he inked a five-year, $35 million extension in May 2011, Rivers pledged to be part of a potential rebuild (or overhaul), so it's hard to imagine him stepping aside at this point (though it will happen eventually). Rivers has his flaws, including a propensity to lean on his veterans too heavily at times, but he made the most of what he had this season and remains a key recruiter for the future.
* Danny Ainge -- Take 'em -- Ainge and his staff (future league GMs Ryan McDonough and Mike Zarren) will need another creative offseason if they desire to remain competitive while targeting future development. Boston currently has only one pick (16th overall) in this year's draft, which limits the influx of cheap, young talent and puts more of a premium on free agency.
With this plan, the Celtics would have three roster spots to fill this offseason. If the team kept a couple of spots open entering the year -- always a bonus in the event that injuries crop up or players become available in season -- Boston could then fill out its roster using available exceptions, which could include the biannual (starting salary of $2.016 million) and, less likely, the nontaxpayer midlevel (starting at $5.15 million, but that would require some creativity to stay on the luxury tax apron as the team would be hard-capped again). At worst, Boston could settle for the taxpayer midlevel (starting salary at $3.183 million), which could draw an impact body while not cramping the payroll. The downside there is the potential for a heftier luxury tax bill with repeater penalties looming after next season.
Yes, there's no easy solutions, but that's what makes this a fascinating offseason for Boston.