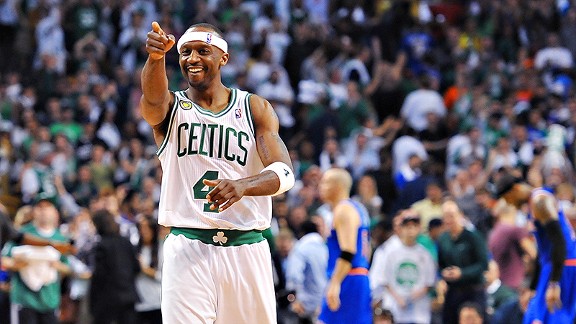 Brian Babineau/NBAE/Getty Images
Following an underwhelming 2012-13 season, Jason Terry is only looking forward.After the Boston Celtics' 2012-13 campaign met an untimely end, we've busted out our red pens and assigned grades to each player based on their individual performances this season. This is the first in a series of end-of-the-season report cards:
Player: Jason Terry
2012-13 averages: 10.1 ppg, 2.5 apg, 2 rpg, 26.9 mpg, 37.2 3PT%, 43.3 FG%
2012-13 salary: $5 million
Season in a paragraph: Searching for that elusive bench spark, Celtics coach Doc Rivers made Terry his first phone call when free agency opened last July and that helped lure the ring-wearing, shot-making guard out of Dallas on a three-year, $15.7 million deal utilizing the midlevel exception. The 35-year-old Terry, pressed into spending 24 games as a starter due to injuries, never settled into his typical bench role and underachieved for much of the regular season when his scoring average dropped five points per game from the year before (in five fewer minutes of floor time). Terry's PER was a career-worst (12.8), as was his assist percentage (14.9) despite Boston's lack of a backup ball-handler. A suspension-caliber elbow to the face from New York's J.R. Smith in Game 3 of an Eastern Conference first-round series against the Knicks seemed to finally roust Terry and he played four of his best games of the season as the Celtics tried desperately to prolong their playoff lives.
Season highlight: With Boston on the verge of being swept out of the playoffs, Terry connected on 7-of-10 shots while posting 18 points and four assists over 41 minutes in a Game 4 triumph over the Knicks at TD Garden. He followed that up by hitting five 3-pointers as part of a 17-point effort in a Game 5 win as Boston nearly made it a series again.
Season lowlight: Pick a regular-season game, any regular-season game. Terry was desperate to find a late-season spark and nothing could quite get him going. The most disappointing effort might have been his return to Dallas on March 22 as Terry missed six of nine shots, turned the ball over three times and posted just eight points in a 104-94 defeat. In his final regular-season appearance against rival Miami on April 12, Terry again missed six of nine shots and committed four turnovers in a 109-101 loss that saw him score just six points. He took the final week of the regular season off to rest.
Final grade: D+
Teacher's notes: Terry's 2012-13 season was rather fascinating. The eyeball test suggests he was a major disappointment, a veteran shooter who never really got it going offensively and was a liability on defense at times. But you dig deeper and find that Terry was maybe Boston's most efficient offensive player (he was the only regular to average better than 1 point per play, according to Synergy Sports data) and the Celtics were an eye-catching plus-60 when Terry was on the floor, compared to minus-78 when he was off. Most of Boston's most successful five-man lineups this season included Terry. Yes, it's quite the anomaly. Good things tended to happen for Boston when Terry was on the court, those good things just rarely happened for him (the man nicknamed JET admitted in the playoffs that he had to keep his trademark runway celebration in the hangar for most of the year). Terry finished the season averaging 1.003 points per play (only Chris Wilcox had better numbers among teammates in limited reps) and ranked in the 83rd percentile among all NBA players, according to Synergy. Defensively, Terry allowed a team-worst 0.861 points per play for Boston regulars (only Jordan Crawford was worse among those with at least 100 defensive plays for the team).
What's next?: Terry, who will turn 36 before the start of training camp, has two years and $10.7 million remaining on his deal. Asked about Boston's murky offseason and whether he'd be back, Terry offered, "That's not for me to decide." But buoyed by his postseason efforts, Terry stressed he has more basketball left in him and hoped for a chance to atone here next season. "This is new beginning for me," Terry said. "It's been a rough year, ups and downs, but for the most part, I'm proud and happy to be a Celtic." Pressed on what he's looking for next season, Terry added, "I've got to get back to the Sixth Man of the Year form, if that's going to be my role. I started off starting and then I went to the bench. I'll take the summer to evaluate it, but definitely going forward, we've got to define my role and make sure it's the right thing." Terry began the season as a starter while Avery Bradley worked his was back from shoulder surgeries. The Celtics, who have swung and missed multiple times in recent seasons on veterans brought in with the midlevel exception (see also: O'Neal, Jermaine and Wallace, Rasheed), will have to gauge if there's a potential trade market for a spunky veteran with something left in the tank (assuming his postseason efforts are enough to mask his regular-season woes). If the Celtics bring back veterans Paul Pierce and Kevin Garnett, then maybe the team rolls the dice on Terry again. If Boston starts a roster overhaul, they almost certainly have to examine trade options given his age and salary.
Honor roll: Click HERE to read all of this season's report cards.
Don't agree with teacher? Just want to sound off on Terry's 2012-13 season? Leave your thoughts in the comments section.