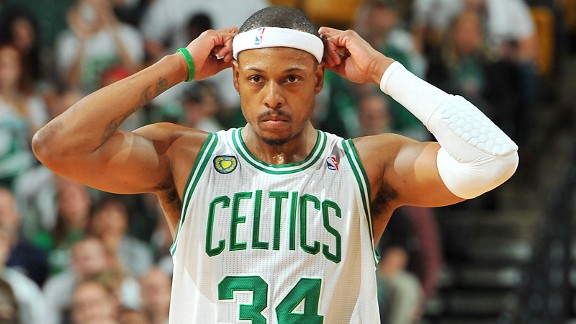 Brian Babineau/NBAE/Getty Images
Paul Pierce carried the Celtics at times after Rajon Rondo went down this season.After the Boston Celtics' 2012-13 campaign met an untimely end, we've busted out our red pens and assigned grades to each player based on their individual performances this season. This is the second in a series of end-of-the-season report cards:
Player: Paul Pierce
2012-13 averages: 18.6 ppg, 6.3 rpg, 4.8 apg, 33.4 mpg, 43.6 FG%, 38.0 3PT%
2012-13 salary: $16.8 million
Season in a paragraph: A lackluster playoff performance left many with a sour taste in their mouths about Pierce's 2012-13 season, but it shouldn't mask the way he put this team on his shoulders in the aftermath of Rajon Rondo's injury. Yes, Pierce struggled offensively, shooting 43.6 percent from the floor (his worst number in a decade), but he often flirted -- and registered -- triple-doubles after Rondo tore his ACL, doing his typical "giving the game what it needs" routine to keep Boston afloat without its only pure point guard. Even at age 35, Pierce had a fantastic defensive season and posted the best rebounding numbers of his career. He was the regular-season MVP of the Celtics yet again.
Season highlight: On the day the Celtics learned that Rondo had torn his ACL, Pierce went out and posted a triple-double (17 points, 13 rebounds, 10 assists) in a double-overtime win over the East-leading Miami Heat. Pierce went on to spend the entire month of February flirting with triple-doubles, and a triple-overtime win over the Denver Nuggets saw him finish with an eye-popping stat line of 27 points, 14 rebounds and 14 assists.
Season lowlight: Pierce's offensive game abandoned him for much of the postseason, most notably in Game 6 of an Eastern Conference first-round series with the New York Knicks. With Boston looking to rally all the way back from a 3-0 deficit, Pierce misfired on 14 of 18 shots (missing eight of nine 3-pointers) and turned the ball over five times while scoring just 14 points as Boston's season ended last week at TD Garden. Pierce shot 26.8 percent beyond the 3-point arc in the playoffs and didn't get to the free throw line with nearly as much consistency as he did in the regular season.
Final grade: B
Teacher's notes: Pierce had an atrocious postseason by his standards, shooting a mere 36.8 percent and owning an unsightly turnover rate of 21.2 percent (he was completely frazzled by New York's trapping at times). Going by Synergy Sports numbers, Pierce averaged 0.767 points per play in the postseason, ranking him in just the 21st percentile among all playoff competitors (for the regular season, Pierce averaged 0.947 points per play, ranking in the 69th percentile). On the positive side, during the regular season, Pierce posted the best defensive rebound percentage (19.7) and total rebound percentage (11.2) of his 15-year career. He also matched his career mark in assist percentage (25.1, also done in 2003-04). None of this makes what lies ahead any easier for Celtics president of basketball operations Danny Ainge.
What's next? Pierce is scheduled to make $15.3 million in the final year of a four-year extension inked after the 2009-10 season. The deal is only $5 million guaranteed and Boston has its amnesty clause available, which should make the team think hard about its direction moving forward. During an appearance on WEEI on Thursday, Ainge noted about Pierce, "There's a lot that will go into [deciding to bring back Pierce], but it hasn't even started yet. We have until June 30 to make any decision. Listen, Paul's been one of the greatest Celtics of all time and that will play a part in it. We love what he's done for us, but ultimately we have to do what we think is the best for us from this point forward and I think that Paul still has a lot of basketball left in him." The question is whether that basketball will be played in Boston. Those in a rush to run Pierce out of town after a lackluster postseason will be yearning for his all-around efforts once he's gone. To hammer that home: Boston was plus-123 overall in plus/minus this season with him on the floor and minus-141 when he was on the bench. Despite his personal struggles, Boston's offense was six points better per 100 possessions with him on the floor (offensive rating of 103.1) than when he was not (97.2). An extended offseason should be good for Pierce, who said he battled a pinched nerve in his neck for much of the 2012-13 season.
Honor roll: Click HERE to read past report cards.
Don't agree with teacher? Just want to sound off on Pierce's 2012-13 season? Leave your thoughts in the comments section.