Boston Celtics president of basketball operations Danny Ainge said Thursday that his team, as currently constituted, is not close to being able to compete for a title.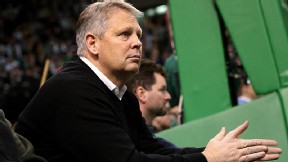 Barry Chin/Getty Images
Danny Ainge has some tough decisions ahead.Sounding like a general manager potentially greasing the skids for some tough summer personnel decisions, Ainge seemed to downplay the notion that Boston could return to contender status by simply bringing back the same roster with better health.
"I certainly don't think we are one player away, we're more than that," Ainge said during his final weekly call of the 2012-13 season to Boston sports radio WEEI (93.7 FM). "Unless that was a really, really special player. I think we're more than that away. It would be tough to become a championship-level team where we are with the salary cap and our structure. We invested a lot this year in hopes of that we could maximize Paul [Pierce] and [Kevin Garnett's] career, and it just didn't work out. I think the injury to [Rajon] Rondo and [Jared Sullinger] and [Leandro] Barbosa really hurt us, and took away any chance that we might have had. Even though it was a longshot that we would be a championship team this year, if everything fell our way, we thought we could [compete], but it didn't work out that way."
Earlier in the call, Ainge sounded optimistic that both Garnett and coach Doc Rivers would be back with the Celtics next season. His blunt assessment of Boston's chances makes you wonder if he's prepared to move on from Pierce if the right trade became available to foster a bit of a makeover. Pierce is set to earn $15.3 million in the final year of his deal next season. That contract is only $5 million guaranteed and the Celtics could also completely wipe his salary off the books by using their amnesty clause.
The lingering question is whether Garnett desires to return to Boston if Pierce is not here. It could force Ainge's hand in terms of keeping the roster intact -- or breaking it apart.
Ainge was asked if he measures his team against the defending champion Miami Heat.
"I think that you have to measure yourself against our competition, and you're always aware of the competition," said Ainge, who later added, "Miami is the best team right now and most prepared to win a championship. But it's not a given that they are going to win the championship. Oklahoma City obviously suffered a huge blow losing Russell Westbrook, and I think that puts it in Miami's favor even more, but I don't think they are completely unbeatable. I think they are a really good basketball team and we're not close to that level right now."
Reflecting on Boston's first-round playoff exit this season, Ainge admitted his team was simply overmatched against the more talented Knicks.
"I think going into the series, I felt like the Knicks had the most room for error... but you always believe that you can beat the team by playing together and getting contributions from someone unexpected," said Ainge. "It turns out that they got some contributions from unexpected guys, [including] amazing 3-point shooting from [Pablo] Prigioni, as an example; [Iman] Shumpet didn't shoot the ball great in the series, but he made some real timely baskets that broke our backs. I think that, generally though, they were a little deeper than us, and they had two great scorers [in Carmelo Anthony and JR Smith], that could score against us against wonderful defense and we had to spread ourselves thin, defensively, to stop those guys, and we left some of the lesser players open. But defense didn't hurt us as much as our offense. Our offense had a lot of dry spells and we just didn't have the firepower."