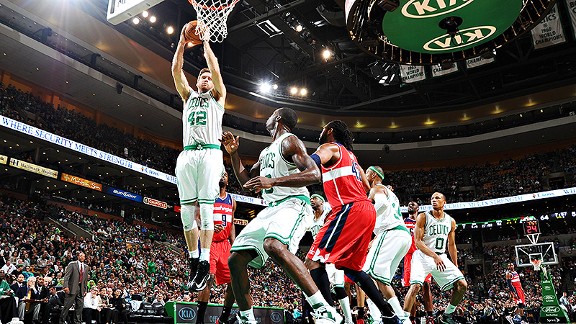 Brian Babineau/NBAE/Getty Images
Shavlik Randolph skies for a rebound during regular-season action.After the Boston Celtics' 2012-13 campaign met an untimely end, we've busted out our red pens and assigned grades to each player based on their individual performances this season. This is the third in a series of end-of-the-season report cards:
Player: Shavlik Randolph
2012-13 averages: 4.2 ppg, 4.4 rpg, 12.4 mpg, 58.3 FG%
2012-13 salary: $258,000
Season in a paragraph: After putting up some eye-opening numbers (34 points, 15 rebounds per game) in China with the Foshan Long Lions, Randolph arrived in size-depleted Boston with low expectations. It took some time to muscle his way into rotation minutes, but Randolph carved out a regular-season spot by grabbing 26.3 percent of all available defensive rebounds during his time on the floor (and 22.4 percent of all caroms overall). Those were the best numbers on the team -- albeit in a small sample size of 198 minutes. Randolph appeared in only one playoff game as the Celtics lost to the Knicks in six games in a first-round series.
Season highlight: Given his first extended floor time during a late March visit from Atlanta, Randolph responded by scoring nine points on 4-of-6 shooting to go along with a career-high 13 rebounds over 22 minutes in a 118-107 triumph. Randolph added a 16-point effort a week later against the Cavaliers, but it was his work on the glass that highlighted his late-season appearances.
Season lowlight: With the Knicks operating with smaller lineups that typically featured just one big, the Celtics rarely dipped into their own center depth during the postseason. Randolph played just 3:13 in a Game 2 loss in New York, grabbing three rebounds in that span.
Final grade: B+
Teacher's notes: Considering expectations were extraordinarily low -- remember that Randolph had been out of the league since the 2009-10 season and had played a mere 38 games since his rookie campaign in 2006-07 -- Randolph was a welcome surprise for a Boston team thin on pure bigs (and even thinner on rebounders after Jared Sullinger went down in February). Can Randolph sustain his crazy rebounding numbers over a full 82-game season? That remains to be seen. But he was an efficient scorer (devouring putbacks, which accounted for nearly a quarter of his total offensive possessions) with a defined skill set that coach Doc Rivers could lean on at times.
What's next? The Celtics hold a team option that can keep Randolph in green for $1.1 million (the minimum salary for his experience). Even at age 29, he could potentially aid his cause by participating with the team's summer squad in Orlando. If retained, Randolph can provide deep big-man depth at a reasonable cost and he's got plenty going for him (rebounding skills, quality team guy, experience with Boston). If he can tighten up his defense, he can carve out a role with this team. And, as the Celtics know all too well, you can never have enough quality frontcourt depth (right, Darko?).
A reminder on grading: Each year we remind readers that grades are based on how players perform versus expectations. A B+ grade for Randolph does not mean he had a better season than Paul Pierce (who got a B grade on Friday). Salary and the player's ability to perform their role for the team factor heavily into the grade. A higher grade often reflects a player that overachieved based on initial expectations.
Honor roll: Click HERE to read past report cards.
Don't agree with teacher? Just want to sound off on Randolph's 2012-13 season? Leave your thoughts in the comments section.