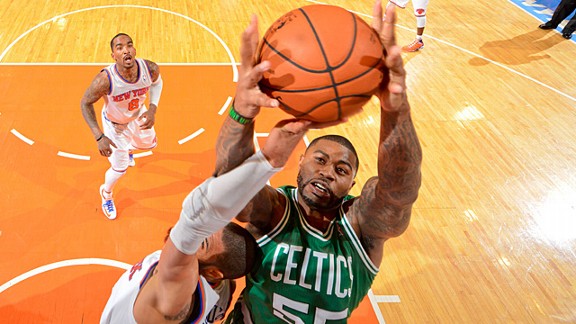 Jesse D. Garrabant/Getty Images
Late-season addition Terrence Williams carved out a role in Boston.After the Boston Celtics' 2012-13 campaign met an untimely end, we've busted out our red pens and assigned grades to each player based on their individual performances this season. This is the fourth in a series of end-of-the-season report cards:
Player: Terrence Williams
2012-13 averages: 4.6 ppg, 1.8 rpg, 1.6 apg, 13.3 mpg, 49.5 FG%
2012-13 salary: $441,000
Season in a paragraph: Despite impressing the Celtics during some unofficial offseason workouts last summer, the team (and its jam-packed roster) couldn't guarantee him more than a training camp invite and Williams ultimately signed with the Guangdong Southern Tigers. When he returned stateside in February, the Celtics came calling again while looking for point guard depth after losing both Rajon Rondo and Leandro Barbosa to season-ending ACL tears. Williams saw inconsistent playing time, but showed he could be a serviceable backup ball-handler, playing sizable minutes over Boston's final three games of the postseason.
Season highlight: With Boston struggling to take care of the ball and rattled by New York's pressure in the opening round of the playoffs, Williams shuffled up the guard depth chart (leapfrogging Jordan Crawford and Courtney Lee in the process) and received 17 minutes of floor time in a Game 5 win in New York. He posted four points, four rebounds and two assists that night, but the most important part of his stat line was zero turnovers. His ball-handling abilities were key to keeping Boston's season alive.
Season lowlight: After a bit of an eye-opening effort in his second game with Boston -- showcasing his point guard skills during a win in Phoenix in which he posted nine points, four rebounds and four assists over 25 minutes -- Williams got a little too overzealous playing in front of some of his family two nights later in Portland (they had trekked down from his native Seattle). Williams earned a DNP next time out in Utah and played sparingly over the next month before reemerging late in the season.
Final grade: B
Teacher's notes: Williams clearly has lottery-caliber talent, the type that made him the 11th overall pick of the Nets in the 2009 draft, but no team has quite been able to harness it. The Celtics told Williams they wanted him as a ball-handler -- something he had to convince himself of -- and he thrived in that role. Williams had the second-highest assist ratio (a measure of assists per 100 possessions) on the team at 22.9 and only Rondo was better at 39.1. Williams also turned the ball over just 22 times in 318 regular-season minutes over 24 appearances. What's more, he played solid defense and Synergy Sports data shows he allowed 0.777 points per play, ranking in the 84th percentile among all league players. He backed those numbers up with a solid defensive cameo late in the playoff series against the Knicks.
What's next?: The Celtics can bring Williams back at the bargain-basement price of $948,000 next season and that seems like a no-brainer regardless of how jammed the guard depth chart could be if the likes of Jason Terry, Crawford and Lee are back in bench roles (though it's hard to imagine all of them will return). The Celtics clearly need backup ball-handling and Williams can be a quality depth option if he's willing to embrace that role. The key for Williams is buying in to what Doc Rivers asks of him. Williams didn't exactly endear himself at previous NBA stops and, when he joined the Celtics, admitted his time in China humbled him a bit. If he desires to stick in this league, he has to check any ego from his lofty draft status and scrap like the player who was out of the league at the start of last season. He's clearly got the talent and the team that harnesses it will be rewarded.
Honor roll: Click HERE to read past report cards.
Don't agree with teacher? Just want to sound off on Williams' 2012-13 season? Leave your thoughts in the comments section.