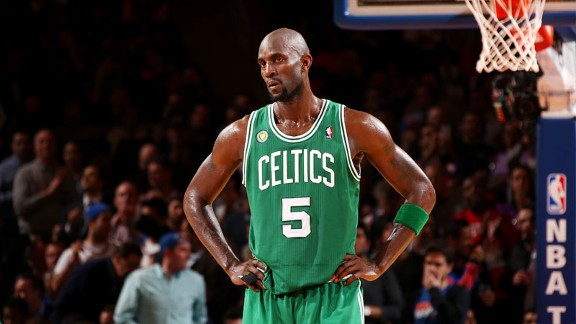 Nathaniel S. Butler/NBAE/Getty Images
Kevin Garnett showed he's got something left in the tank during the 2012-13 season.After the Boston Celtics' 2012-13 campaign met an untimely end, we've busted out our red pens and assigned grades to each player based on their individual performances this season. This is the fifth in a series of end-of-the-season report cards:
Player: Kevin Garnett
2012-13 averages: 14.8 ppg, 7.8 rpg, 2.3 apg, 29.7 mpg, 49.6 FG%
2012-13 salary: $11.6 million
Season in a paragraph: After raising eyebrows while inking a three-year contract extension last summer, the 36-year-old Garnett posted another season with machine-like efficiency. His per-36-minute numbers were astoundingly in line with his entire six-year run in Boston, with only a slight dip in field goal percentage (down to 49.6 percent this season after being as high as 52.8 two seasons ago) and a somewhat more pronounced downturn in free throw percentage (dipping from 85.7 percent last season to 78.6 this year). Garnett did miss 14 games due to injuries, including a long stretch near the end of the season due to left ankle inflammation. The Celtics essentially shut him down knowing their playoff hopes hinged on his health and even that wasn't enough to get out of the first round.
Season highlight: Maybe it's not surprising that Garnett saved his best work for when it mattered most as he turned into an absolute rebounding machine in Games 3-5 of an Eastern Conference first-round series with the Knicks. Garnett grabbed 52 rebounds during that three-game stretch and had a rather absurd defensive rebound rate (the percent of all available caroms grabbed) of 36.5 percent for the series (the next closest teammat was Terrence Williams at 19.1 percent). Garnett closed out the postseason with five consecutive double-doubles, averaging 12.7 points and 13.7 rebounds per game overall (you can quibble with his lack of offensive aggression, but Garnett was maybe the biggest reason the series even made it to six games).
Season lowlight: Despite being slow out of the gates, Garnett got voted an All-Star starter while averaging 15.1 points on 50.3 percent shooting with 7.7 rebounds over 30.3 minutes per game before the season All-Star break. Just two games after the midseason break, the Celtics were forced to give Garnett a game off because he looked so gassed (some early season overtime games caught up with him). Later, Garnett would miss two games with an adductor strain and, after returning for just two more games, he developed left ankle inflammation and sat out 10 of Boston's final 13 games overall, with his post-All-Star numbers declining (13.6 points on 47.5 percent shooting over 28.1 minutes per contest). Garnett looked like he was still shaking some rust from his late-season break when Boston dropped Game 1 in New York in late April.
Final grade: B+ [Update: Originally graded Garnett a straight B and wrestled with the decision. After seeing the early poll results and re-examining the body of work, it made sense to add the plus. Garnett's importance on defense cannot be understated and that end of the court was the only reason Boston was actually in the playoffs given all the injuries it endured. Part of what makes grading Garnett so difficult is that he's been so damn consistent and when he simply meets his expectations, albeit at age 36, you tend to undervalue his efforts, as we did initially.]
Teacher's notes: It's hard to find much fault with Garnett's season. Each time you desire to nitpick, you simply look at his influence on the team as a whole and it seems irrelevant. Case in point: The Celtics were minus-130 in the 1,946 minutes Garnett was on the bench this season, but plus-112 in his 2,022 minutes of court time. Dig deeper and Boston's defensive rating (points allowed per 100 possessions) was a staggering 104.6 with Garnett on the bench and a minuscule 96.2 when he was on the floor. Yes, even at an advanced age, Garnett remains so vital to this team and its success, particularly on the defensive end. Like fellow veteran Paul Pierce, Garnett can no longer carry this team on his own, but no player's efforts are as important as Garnett.
What's next?: KG, who will turn 37 in a week, is scheduled to earn $12.4 million next season. It's still a bargain for what he brings. While Garnett will feel the usual tug from retirement after 18 seasons in the league and given all the maintenance it requires to keep him on the court, he gave the impression that he'd be back for more. And why not? Garnett ranked in the 89th percentile among all league players while allowing 0.765 points per play this season, according to Synergy Sports data. Among those with at least 475 total defensive plays, Garnett was 12th overall in the NBA in points allowed per possession. Garnett didn't have a lockdown-caliber year as opponents shot better against him (39.6 percent) than in recent seasons, but he's still the anchor for Boston's defense. The question is whether Garnett desires to stick around if the Celtics overhaul any other part of their roster, including whether Pierce returns.
Honor roll: Click HERE to read past report cards.
Don't agree with teacher? Just want to sound off on Garnett's 2012-13 season? Leave your thoughts in the comments section.