Boston Celtics guard Avery Bradley landed on the NBA's All-Defensive second team, an honor selected by the league's 30 head coaches.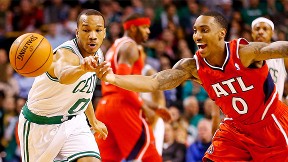 Jared Wickerham/Getty Images
Avery Bradley showcases his defensive talents against Jeff Teague and the Hawks.Bradley earned 10 first-team votes and five second-team votes, for a total of 25 points. He shared the second-team backcourt with Memphis' Mike Conley (19 points). Tony Allen (53 points) and Chris Paul (37 points) comprised the first-team backcourt.
The voting panel is made up of the NBA's 30 head coaches, who selected first and second teamers by position (coaches cannot vote for their own players). Two points were awarded for a first-team vote and one point for a second-team vote. Bradley outscored both of the first-team centers.
Bradley, a 22-year-old guard in his third season, has developed a reputation as one of the league's most tenacious on-ball defenders. According to individual defensive statistics logged by Synergy Sports, Bradley limited opponents to 0.697 points per play, the lowest in the league among those with at least 475 total defensive possessions. Opponents shot just 30.8 percent against Bradley and scored just 31.8 percent of the time (also a league low using that 475 possession total).
Bradley was the only Celtics player to receive votes in the All-Defensive balloting (Kevin Garnett, a mainstay of these teams, was surprisingly shut out). Previously, Bradley finished 12th in the media-voted Defensive Player of the Year award (landing on five of 121 ballots).
A closer look at the All-Defensive voting:
FIRST TEAM: Forwards: LeBron James, Miami (25-2-52); Serge Ibaka, Oklahoma City (17-12-46); Centers: Tyson Chandler, New York (9-6-24); Joakim Noah, Chicago (8-8-24); Guards: Tony Allen, Memphis (25-3-53); Chris Paul, Los Angeles Clippers (15-7-37).
SECOND TEAM: Forwards: Tim Duncan, San Antonio (3-14-20); Paul George, Indiana (7-13-27); Center: Marc Gasol, Memphis (5-2-12); Guards: Avery Bradley, Boston (10-5-25); Mike Conley, Memphis (4-11-19).
Other players receiving votes, with point totals (first-team votes in parentheses): Andre Iguodala, Denver, 16 (2); Larry Sanders, Milwaukee, 16 (4); Thabo Sefolosha, Oklahoma City, 15 (2); Luol Deng, Chicago, 11 (1); Dwight Howard, L.A. Lakers, 9 (3); Kobe Bryant, L.A. Lakers (6 (1); Roy Hibbert, Indiana, 6 (2); Kenneth Faried, Denver, 4 (1); Russell Westbrook, Oklahoma City, 4 (1); Shane Battier, Miami, 2; Nicolas Batum, Portland, 2 (1); Corey Brewer, Denver, 2; George Hill, Indiana, 2; Mike James, Dallas, 2 (1); Kawhi Leonard, San Antonio, 2, (1); Tony Parker, San Antonio, 2 (1); Dwyane Wade, Miami, 2; Metta World Peace, L.A. Lakers, 2 (1); Eric Bledsoe, L.A. Clippers, 1; Kevin Durant, Oklahoma City, 1; Jrue Holiday, Philadelphia, 1; Andrei Kirilenko, Minnesota, 1; Iman Shumpert, New York, 1; David West, Indiana, 1.