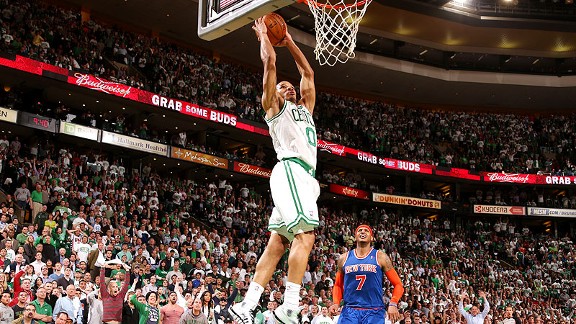 Nathaniel S. Butler/NBAE/Getty Images
Avery Bradley skies for a dunk during postseason play.After the Boston Celtics' 2012-13 campaign met an untimely end, we've busted out our red pens and assigned grades to each player based on their individual performances this season. This is the sixth in a series of end-of-the-season report cards:
Player: Avery Bradley
2012-13 averages: 9.2 ppg, 2.2 rpg, 2.1 apg, 28.7 mpg, 40.2 FG%, 31.7 3PT%
2012-13 salary: $1.6 million
Season in a paragraph: Bradley missed the first 30 games of the season while rehabbing from double shoulder surgery, but his return had an undeniable impact on turning around Boston's team defense (the Celtics vaulted from 14th in the league in defensive rating -- points allowed per 100 possessions -- on Jan. 1 at 102.1, to sixth by season's end at 100.4). According to individual defensive statistics logged by Synergy Sports, Bradley limited opponents to 0.697 points per play, the lowest in the league among those with at least 475 total defensive possessions. Opponents shot 30.8 percent against Bradley and scored just 31.8 percent of the time (also a league low using that 475 possession total). Bradley landed on the NBA's All-Defensive second team Monday for his efforts.
Season highlight: Bradley reinvigorated Boston's defense upon his return and also kept the team afloat when Rajon Rondo tore his ACL in late January. Bradley helped Boston embark on a seven-game winning streak immediately after Rondo's diagnosis was revealed, which included a win over the rival Lakers that featured Bradley absolutely smothering Steve Nash as part of a 116-95 triumph at TD Garden (Nash did get his revenge in the rematch in LA). Bradley's defense was a big reason Boston found a way to simply get into the playoffs rather than fall apart when beset by injuries.
Season lowlight: Due in part to his offensive struggles -- including being tasked with daunting ball-handling responsibilities against a pressure-applying New York defense -- Bradley's confidence waned in the postseason and it affected him at both ends of the floor. Most notably, Bradley got routinely burned on the defensive end by Knicks guard Raymond Felton, who emerged as maybe New York's most influential player -- or at least the series' biggest wild card. Bradley didn't emerge from his funk until the final quarter of a Game 6 loss where he nearly spearheaded a rally from a 26-point deficit.
Final grade: B-
Teacher's notes: I know, I know -- another B grade (joining Paul Pierce and Kevin Garnett in that club). No, it's not a tribute to the Bruins, it's a sign of why this team struggled and suffered an early playoff exit as none of its core players performed at an A-caliber level. As good as Bradley was defensively, he struggled just as mightily offensively. After shooting nearly 50 percent from the floor during the 2011-12 season, feasting on backdoor cuts and 3-point shots, Bradley's field goal percentage dipped to 40.2 percent this season and that included a pronounced drop from beyond the arc (dipping from 40.7 percent to 31.7 percent). The loss of Rondo undoubtedly hurt him, particularly with increased ball-handling responsibilities, but Bradley simply never found an offensive rhythm. According to Synergy Sports data, Bradley averaged just 0.803 points per play this season, ranking him in the 24th percentile among all league players. Put another way: Of all players with at least his 574 total offensive possessions, Bradley ranked 183rd out of 187 qualifying players (the only ones worse: Rondo, Michael Beasley, Alexey Shved, and Ricky Rubio). Here's two more damning stats to consider: The Celtics were plus-26 when Bradley was off the court, but minus-44 when he was on it. And despite his individual defensive efforts, Boston's defensive rating actually remained nearly static with (100.3) or without (100.4) him. Bradley's postseason struggles contributed to the minus next to his mark.
What's next?: Bradley's salary remains a bargain at $2.5 million next season and the Celtics hold a qualifying offer of $3.6 million for the 2014-15 campaign (though you would think the team would consider a longer-term deal soon before his price tag jumps up). Bradley should benefit from a long, uninterrupted offseason to both further heal his shoulders and hone his game. He has to regain his offensive form if he's going to be the shooting guard of the future for this team, but Bradley's defense is such a luxury and the league is clearly taking note after his All-Defensive team honor on Monday.
Honor roll: Click HERE to read past report cards.
Don't agree with teacher? Just want to sound off on Bradley's 2012-13 season? Leave your thoughts in the comments section.