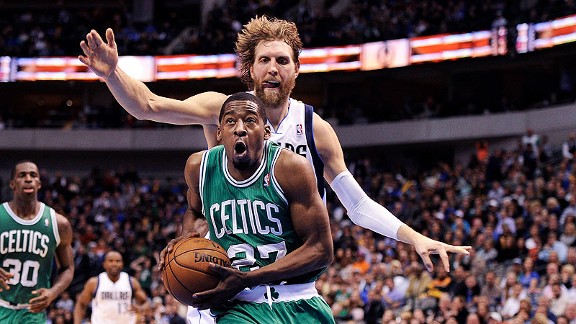 Jerome Miron/USA TODAY Sports
True to his reputation, Jordan Crawford was the wildest of wild cards.After the Boston Celtics' 2012-13 campaign met an untimely end, we've busted out our red pens and assigned grades to each player based on their individual performances this season. This is the seventh in a series of end-of-the-season report cards:
Player: Jordan Crawford
2012-13 averages: 9.1 ppg, 2.7 rpg, 2.5 apg, 21.6 mpg, 41.5 FG%, 32 3PT% (with Boston)
2012-13 salary: $1.2 million
Season in a paragraph: Acquired by Boston at the trade deadline to provide a bench scoring punch (this after guard depth was depleted with both Rajon Rondo and Leandro Barbosa tearing their ACLs), Crawford needed hefty minutes in order to achieve a noticeable output (he reached double figures in scoring in 10 of Boston's final 19 regular-season games of the year, but never without playing at least 24 minutes). Beyond a no-conscience shot selection, it was Crawford's skilled passing that stood out more than anything (Celtics president of basketball operations Danny Ainge dubbed him the best passer on the team at one point). Alas, he was a liability defensively and his most notable moment with the team came while yapping at Carmelo Anthony while causing a bit of a postgame dust-up after Boston's Game 5 win in New York during an Eastern Conference first-round series.
Season highlight: In his fifth game with Boston, Crawford chipped in 12 points on 4-of-7 shooting (2-for-2 beyond the arc) with four rebounds, three assists, and a steal over 16:17 in a 109-101 triumph over the host Philadelphia 76ers. That was exactly the sort of efficiency the Celtics craved from Crawford off the bench, but they rarely got it. He did play leapfrog with Boston's guard depth chart in the postseason, logging 25 minutes in a Game 2 loss before seeing his minutes thinned again over the rest of the series.
Season lowlight: Even after logging a DNP in a pivotal Game 5, Crawford couldn't help himself and barked at Anthony after Boston's 92-86 triumph. For the playoffs, Crawford shot 30.4 percent overall (7 of 23) and didn't have a single assist in 59 minutes of floor time. Not quite the wild-card effort this team was hoping for.
Final grade: D
Teacher's notes: Celtics coach Doc Rivers wrestled with the decision to give away locker room leader Jason Collins as part of the deal for Crawford (but had to after Chris Wilcox vetoed another potential swap). While -- outside of the Game 5 skirmish -- Crawford rarely rocked the boat, he didn't have many memorable moments in 32 total appearances. According to Synergy Sports data, Crawford allowed 0.902 points per play defensively, ranking in the 30th percentile among all league players. His offensive numbers weren't much better (0.86 points per play, 37th percentile). The Celtics' offense was a bucket better per 100 possessions with Crawford, but two points worse defensively. All in all, Crawford simply didn't leave his mark in Boston
What's next?: The Wizards previously picked up a team option on Crawford, which means he is on the books for $2.2 million next season (and a $3.2 million qualifying offer looms after that). The Celtics will bring Crawford back at reasonable money or use him as a trade asset (either by himself or in a package). Crawford got thrown into the mix late in the season and a fresh start with the team could aid his production, but with guard depth stocked if Rondo can come back healthy, Crawford needs to find a way to be an efficient scorer in less minutes than he saw in Washington.
Honor roll: Click HERE to read past report cards.
Don't agree with teacher? Just want to sound off on Crawford's 2012-13 season? Leave your thoughts in the comments section.