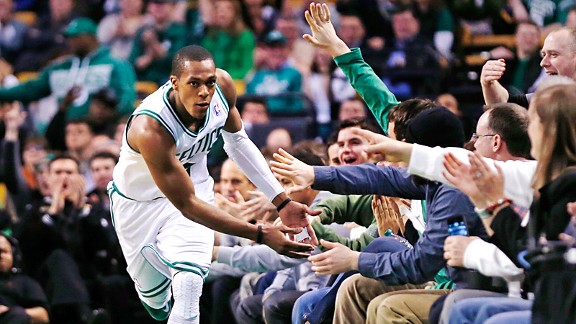 AP Photo/Charles Krupa
Rajon Rondo was missed by fans -- and teammates -- this season.After the Boston Celtics' 2012-13 campaign met an untimely end, we've busted out our red pens and assigned grades to each player based on their individual performances this season. This is the eighth in a series of end-of-the-season report cards:
Player: Rajon Rondo
2012-13 averages: 13.7 ppg, 11.1 apg, 5.6 rpg, 37.4 mpg, 48.4 FG%, 24 3PT%
2012-13 salary: $11 million
Season in a paragraph: Rondo appeared in only 38 games after tearing his ACL during an overtime loss in Atlanta in late January. His season didn't lack for drama in the short time Rondo was on the court. A polarizing double-digit assist streak got snapped when Rondo got in a post-whistle dust-up with Kris Humphries after a hard foul on teammate Kevin Garnett. Rondo endured a two-game suspension for his actions and later got tagged with a one-game ban for bumping an official in early January. Along the way, Rondo showed a more consistent midrange shot (shooting 48 percent) and improved his free throw percentage a bit, but struggled with defensive consistency and couldn't quite jumpstart a sluggish Boston offense.
Season highlight: This is never an easy task with Rondo. Like assists? He handed out 20 helpers twice in his first nine games of the season while adding 13 games to his double-digit assist streak that started during the 2011-12 campaign (and ultimately tied John Stockton for the second longest span at 37 games before his early ejection against the Nets). Prefer triple-doubles? Rondo had five more of those this season, including in each of his final two games of the season (though Boston was just 2-3 in those games).
Season lowlight: Rondo and coach Doc Rivers came under some scrutiny for a bit of stat-chasing at the end of a lopsided loss in Detroit in mid-November. Rondo needed some late-game floor time to reach 10 helpers in a 103-83 loss to the Pistons that dropped Boston to a 6-5 on the season (Rondo also had six turnovers in the game). While Rivers and Rondo often downplayed the streak, it clearly did matter to them and chasing some late-game assists wasn't a good look while getting throttled by a team with just one win in its first 10 tilts.
Final grade: C+
Teacher's notes: Nothing spoke more to Rondo's value than the way the team struggled without him, particularly offensively in the playoffs. But the stats show a team that was still stagnant even with him. The Celtics owned an offensive rating -- points per 100 possessions -- of 99.2 with Rondo on the court and that number actually jumped up three points without him. Rondo was minus-57 in plus/minus for the season, while the Celtics were plus-39 without him. What gives? Rondo didn't have a particularly efficient offensive season in his 38 games. While his mid-range shooting blossomed and his field-goal percentage rebounded from a poor 2011-12 campaign, Rondo still struggled to generate consistent offense. According to Synergy Sports data, Rondo averaged 0.796 points per play, ranking in just the 23rd percentile among all league players (an uptick in turnovers played a large part in that diminished number as Rondo's turnover ratio was the highest since his rookie season). Maybe most concerning was Rondo's transition numbers, where he averaged just 0.864 points per play and ranked in the 11th percentile (as leader of the break, he has to be better at finishing in those situations). Defensively, Rondo's Synergy numbers were much glossier (0.777 points per play, 86th percentile), but in the same way his offense was better than the stats might suggest, his defense was worse than the numbers tell. Rondo allowed too much dribble penetration and clearly missed Avery Bradley for the first 30 games of the season (while Bradley rehabbed from double shoulder surgery). The bottom line is that the Celtics need more from Rondo if he's going to be their centerpiece player and it will be interesting to see what he gleaned from a half-season on the sidelines.
What's next?: Rondo has two years remaining on his contract and will earn $12 million next season (still a bargain of a deal). Celtics president of basketball operations Danny Ainge remains steadfast that Rondo is on pace to return for training camp after undergoing ACL surgery in February, but that's an aggressive timeline and -- as Derrick Rose showed -- there's no guarantees with ACL injuries. But after all their woes offensively, both generating points and simply getting into their sets and handling pressure, the Celtics will be relieved to get their All-Star point guard back. Make no mistake, the Celtics were not better without Rondo; but they can be better than they were when they did have him at the start of the year and it starts with getting more out of him.
Honor roll: Click HERE to read past report cards.
Don't agree with teacher? Just want to sound off on Rondo's 2012-13 season? Leave your thoughts in the comments section.