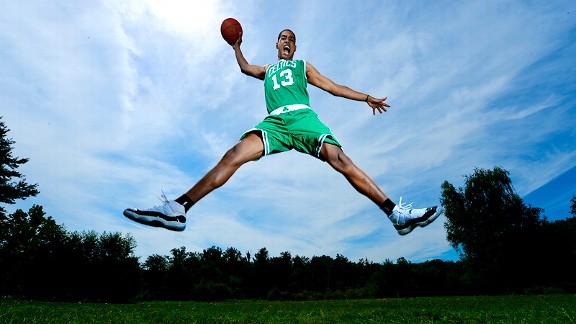 Jesse D. Garrabrant/Getty Images
Fab Melo spent much of his rookie season with the Maine Red Claws of the D-League.After the Boston Celtics' 2012-13 campaign met an untimely end, we've busted out our red pens and assigned grades to each player based on their individual performances this season. This is the 11th in a series of end-of-the-season report cards. Today we put the spotlight two players with incomplete grades after getting limited floor time in Boston:
Player: Fab Melo
2012-13 averages: (D-League stats) 9.8 ppg, 6 rpg, 3.1 bpg, 26.2 mpg, 51.5 FG%
2012-13 salary: $1.3 million
Season in a paragraph: The 22nd pick in last year's draft came with the tag of long-term project and, sure enough, Melo spent much of the year taking baby steps with the Maine Red Claws of the D-League. Melo was coming on strong in late December, putting up some ridiculous numbers when his rookie campaign got derailed a bit by a concussion sustained by walking into a door frame. Melo led the D-League in blocks and with enough massaging should someday be an NBA-caliber defender. But the 22-year-old Brazilian remains incredibly raw.
Teacher's notes: After landing NBA-ready Jared Sullinger at No. 21, the Celtics had the luxury of rolling the dice with Melo. Even when their depth was depleted up front this season, they made sure to keep him in the D-League and nurture his development. The Celtics were hoping Melo would be able to dominate the D-League with his size, but his rebounding numbers suggest he's still working on the fundamentals after a late immersion into the sport.
What's next?: Summer league will provide a nice gauge of just how much Melo has progressed. Unlike his cameos with the big-league team, he'll get extended floor time and a chance to compete with other young players. It seems likely that the 2013-14 season could be another development year if the Celtics remain committed to bringing him along slowly.
Player: D.J. White
2012-13 averages: 2.4 ppg, 1.1 rpg, 0.5 bpg, 7.2 mpg, 52.2 FG%
2012-13 salary: $256,000
Season in a paragraph: The Celtics imported three players from the Chinese Basketball Association on 10-day contracts late in the year, including big men Shavlik Randolph and White. Randolph's rebounding prowess helped him earn the available floor time, while White appeared in only 12 games for a total of 86 minutes.
Teacher's notes: White had some serviceable years in Charlotte and Oklahoma City, but didn't get much of a chance with Boston. What he did get is a head start on a chance to compete for a job for next season and summer league will provide a chance to show what all that time on the practice court and in the weight room did for him. His most noteworthy moment of the season might have been intercepting Jordan Crawford as he barked at Carmelo Anthony following Boston's Game 5 win in New York.
What's next?: It's a big summer for the 26-year-old White, who won't just be auditioning for a spot with Boston, but also for the rest of the league if he can't stick here. With 14 of 15 players from last season under contract -- four nonguaranteed deals -- White faces long odds to stick, but can make a case this summer. His contract becomes guaranteed on Aug. 1, which means the Celtics can waive him with no costs before that point. They can also use his $1 million salary next season as part of any offseason moves, with the inheriting team able to cut him before that date at no cost as well. In that regards alone, he's a valuable asset (think Boston's creative sign-and-trade swap last year involving end-of-the-bench players that reeled in Courtney Lee).
Honor roll: Click HERE to read past report cards.
Don't agree with teacher? Just want to sound off on the 2012-13 season for Melo or White? Leave your thoughts in the comments section.