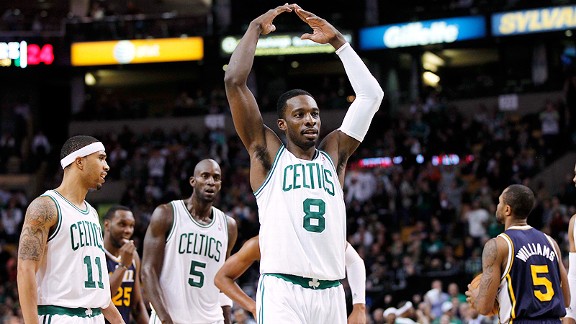 Greg M. Cooper/US Presswire
Jeff Green broke through at the end of the 2012-13 season.After the Boston Celtics' 2012-13 campaign met an untimely end, we've busted out our red pens and assigned grades to each player based on their individual performances this season. This is the 12th in a series of end-of-the-season report cards:
Player: Jeff Green
2012-13 averages: 12.8 ppg, 3.9 rpg, 1.6 apg, 27.8 mpg, 46.7 FG%
2012-13 salary: $8.4 million
Season in a paragraph: The Celtics were blistered by pundits after inking Green to a four-year, $36.2 million deal as he returned from missing all of the 2011-12 season following major heart surgery. For the first three months of the season, Green was exactly the sort of underachiever that many saw him as in his first five seasons in the league, but in March he turned a corner. In fact, by the playoffs, Green averaged 20.3 points, 5.3 rebounds, and 2.3 assists over 43 minutes per game and, suddenly, few were lamenting that contract he signed last summer.
Season highlight: We had seen flashes and glimpses of Green's potential throughout the season -- maddening because they were not sustained -- but when Green exploded for 43 points on 14-of-21 shooting in a mid-March loss to the rival Heat, something clicked. From then on, it was as if Green understood he was capable of imposing his will on the game. For the remainder of the regular season, Green averaged 19.3 points, 5.7 rebounds, and 2.8 assists over 35.1 minutes per game and maintained that production through the playoffs, all while cementing himself as a starter. An honorable mention: Green's buzzer-beating layup to top host Indiana on March 6 -- capping an incredible fourth-quarter comeback for Boston -- was one of the season highlights for the team, while his winner in Cleveland -- in front of the doctor that performed his heart surgery -- later that month had to rank among Green's top individual moments.
Season lowlight: Green struggled to assert himself over the first three months of the season, his highlight moments relegated mainly to poster dunks. In 15 games in the month of January, Green averaged 9.3 points per contest, failing to reach double figures in scoring in seven games while both his playing time (23.9 minutes per game) and shots (6.9 per game) plummeted. Few could have envisioned the late-season explosion that loomed.
Final grade: B+
Teacher's notes: There was no more encouraging aspect of a Celtics season dotted with injuries and inconsistencies than the play of Green over the final two months. You almost have to split his season in two sections the jump was so pronounced. Taking the campaign as a whole, Green averaged 0.983 points per play, ranking in the 78th percentile among all league players, according to Synergy Sports data (but that number jumped up to 1.04 late in the season). His defensive numbers were solid, too (though they slipped a bit as his offense jumped up and that remains an area to work on) as Green allowed 0.79 points per play overall, ranking in the 82nd percentile. Rivers constantly demanded more from Green at both ends of the floor and he gave more by season's end. The Celtics still need him to be a better rebounder and his turnover percentage spiked a bit with the ball in his hands more often (though his assist rate jumped up as well). Green showed the ability to be a true impact player and, despite the inconsistent start to the season, we'll give him a slight bump up in grade based on his excellent late-season numbers.
What's next?: Is there another level for Green? Can he build off -- and sustain -- what he showed in those final two months? There's an awful lot of optimism about the way he finished off the 2012-13 campaign and you wonder if, moving forward, he can combine with a healthy Rajon Rondo to be the Options 1 and 2 for Boston (which would either ease what the Celtics ask from veterans Paul Pierce and Kevin Garnett, or allow them to move on if they do not return). Green will earn $9 million next season and -- after all that handwringing last summer -- it would seem an affordable number if he can replicate his late-season production.
Honor roll: Click HERE to read past report cards.
Don't agree with teacher? Just want to sound off on Green's 2012-13 season? Leave your thoughts in the comments section.