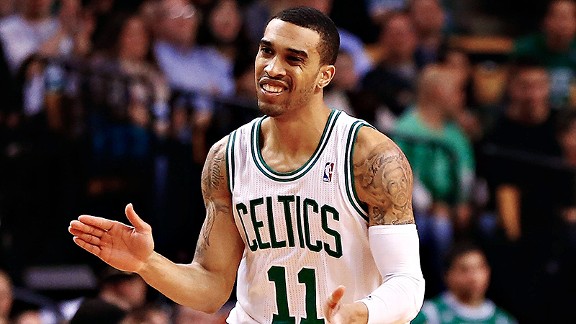 Jared Wickerham/Getty Images
Courtney Lee's season didn't play out as he expected.After the Boston Celtics' 2012-13 campaign met an untimely end, we've busted out our red pens and assigned grades to each player based on their individual performances this season. This is the 13th in a series of end-of-the-season report cards:
Player: Courtney Lee
2012-13 averages: 7.8 ppg, 2.4 rpg, 1.8 apg, 24.9 mpg, 46.4 FG%, 37.2 3PT%
2012-13 salary: $5 million
Season in a paragraph: Despite limited offseason resources last summer, the Celtics worked a creative three-team sign-and-trade deal that sent out four end-of-the-roster players and a couple second-round draft picks in exchange for Lee. Due to injuries at the guard position, Lee started nearly half the season for Boston, but never quite carved out a defined role. By the postseason, he had slipped out of the rotation, logging consecutive DNPs while playing just 39 total minutes in four playoff appearances.
Season highlight: For Lee, his season peaked in late January in the aftermath of a season-ending ACL injury to Rajon Rondo, which thrust him into the starting lineup. Boston went on to play some of its most inspired ball of the season, ripping off seven straight wins after Rondo went down. Lee combined with Avery Bradley to form the "Pitbulls" -- a defensive-minded backcourt that helped Boston go 13-4 through mid-March before injuries finally caught up with the Celtics.
Season lowlight: Lee sprained his ankle in the closing moments of a loss in Dallas on March 22. He missed the next three games and essentially lost his starting job in the process (Boston soon shifted to a smaller lineup that inserted Jeff Green with the starters). Despite closing the season strong with increased time as Boston rested veteran bodies late in the regular season, Lee faded from the playoff rotation after Game 1.
Final grade: C-
Teacher's notes: Let's start with the good: Lee lived up to his reputation as a corner 3-point specialist (connecting on 44.2 percent of those attempts), shot a career-high 46.4 percent from the floor overall, and posted the highest assist rate of his career while tasked with increased ball-handling responsibilities. The bad? Lee struggled mightily with 3-pointers above the breaks (29 percent), watched Boston's defensive rating (points allowed per 100 possessions) climb two points when he was on the floor, and was prone to fits of turnovers. The biggest problem for Lee was that he simply never carved out a role, and once he was relegated back to a bench role late in the season, Celtics coach Doc Rivers struggled to find spots to lean on him. Lee posted solid offensive numbers, as crunched by Synergy Sports Technology (0.942 points per play, 67th percentile), but his defense was inconsistent, even when running with a starting unit that featured Bradley and Kevin Garnett (overall, Lee allowed 0.858 points per play, ranking in the 54th percentile among all league players).
What's next? Lee has three years and $16.4 million left on the deal he inked as part of the sign-and-trade swap. The question is whether he'll continue his journeyman ways (four teams in five NBA seasons) or emerge as a key part of Boston's younger nucleus. Lee was an excellent locker room presence and handled himself maturely when his role diminished in the playoffs. He deserves another chance to assert himself, though his name will almost certainly bubble up in trade whispers given his salary and Boston's potential need to make over parts of its roster (depending on how the summer plays out). Lee pledged to get back to work early this offseason in hopes of a better showing during the 2013-14 campaign.
Honor roll: Click HERE to read past report cards.
Don't agree with teacher? Just want to sound off on Lee's 2012-13 season? Leave your thoughts in the comments section.