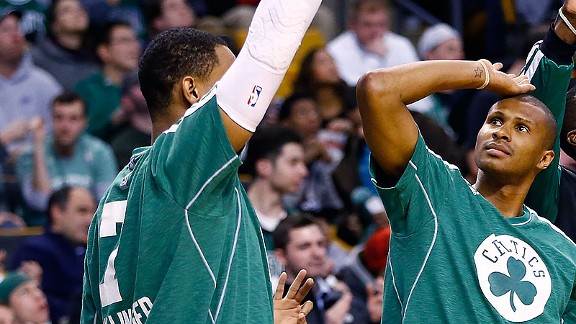 Jared Wickerham/Getty Images
The Celtics lost both Jared Sullinger and Leandro Barbosa to season-ending injuries in February.After the Boston Celtics' 2012-13 campaign met an untimely end, we've busted out our red pens and assigned grades to each player based on their individual performances this season. This is the 14th in a series of end-of-the-season report cards with today's focus on two players whom the team lost at midseason:
Player: Jared Sullinger
2012-13 averages: 6 ppg, 5.9 rpg, 19.8 mpg, 49.3 FG%
2012-13 salary: $1.3 million
Season in a paragraph: Concerns about the stability of his back contributed to Sullinger's sliding to Boston at No. 21 in last year's draft, and, while back surgery ultimately ended his rookie campaign in late January, the 21-year-old had ascended to a starting role by that point and showed plenty of long-term potential. His natural rebounding talents allowed Sullinger to make an immediate impact, and a Celtics team thin on rebounding big men missed his presence late in the season.
Final grade: B+
Teacher's notes: Sullinger appeared in only 45 games, and that was about the only thing which might have prevented him from earning any sort of All-Rookie honors. Sullinger's teammates, including Kevin Garnett, gushed about his basketball IQ and ability to carve out an immediate role at the NBA level. Sullinger posted insane rebound rates and -- if you ignore late-season import Shavlik Randolph -- he owned the second-best number on the team in defensive rebound percentage (22.5 percent; Garnett topped the list at 25.9) and had the best overall rebound percentage (17.6 percent; Garnett was next at 15.7). What flew under the radar was how good Sullinger was defensively. Synergy Sports data shows he allowed 0.708 points per play. Among all players with at least 300 possessions defended this season, Sullinger had the third-best points-per-possession stats, behind only teammate Avery Bradley (0.697 ppp) and former Celtics swingman Marquis Daniels (0.707 ppp). The bottom line: Good things happened with Sullinger on the court as the Celtics were plus-42 when he was on the floor, but minus-60 without him.
What's next? The Celtics have Sullinger under their control with as much as four years remaining on his rookie pact. Next season he'll earn $1.4 million. So long as back problems are in the rearview mirror, then Sullinger will again have the opportunity to carve out a role in Boston's frontcourt. While Sullinger faces the same obstacles as most undersized power forwards, he showed he could overcome most of those hurdles with his IQ.
Player: Leandro Barbosa
2012-13 averages: 5.2 ppg, 1.4 apg, 1.1 rpg, 12.5 mpg, 43 FG%, 38.3 3PT%
2012-13 salary: $854,000
Season in a paragraph: A late training camp addition, Barbosa hooked on for the veteran minimum and, despite no guarantee of playing time, found a role as what Doc Rivers dubbed the team's initial "wild card," providing instant offense in short minutes. Barbosa put his ball-handling talents on display when he received a spike in minutes after Rajon Rondo tore his ACL in late January. All Barbosa did was help Boston win seven straight games before tearing his own ACL in a loss in Charlotte on Feb. 11 (just 17 days after Rondo's injury, with Sullinger's loss sandwiched in between). The Celtics ultimately traded Barbosa's contract (along with Jason Collins) to Washington in a deadline deal for his "wild card" replacement, Jordan Crawford.
Final grade: B
Teacher's notes: The former Sixth Man of the Year arrived content to compete for playing time in a crowded backcourt, and injuries opened doors as he appeared in 41 games for Boston. Better known for his scoring efforts, Barbosa quietly set career highs for both assist rate (19 percent) and turnover percentage (9.1). His 2.76 assist-to-turnover ratio was second best on the team behind only Rondo (2.84).
What's next? Barbosa, set to be an unrestricted free agent this summer, is rehabbing after February surgery. Celtics president of basketball operations Danny Ainge said then that the team desired to bring Barbosa back if the option presented itself. That will ultimately depend on Barbosa's recovery and Boston's roster movement this summer. If the Celtics hang on to Crawford, then there's likely not as much of a need to add someone like Barbosa. Ironically, while big-ticket offseason additions like Courtney Lee and Jason Terry struggled to make a consistent impact during their first seasons in Boston, it was Barbosa who found a way to make an impact off the bench despite his late arrival and bargain price tag.
Honor roll: Click HERE to read past report cards.
Don't agree with teacher? Just want to sound off on the 2012-13 season for Barbosa and Sullinger? Leave your thoughts in the comments section.