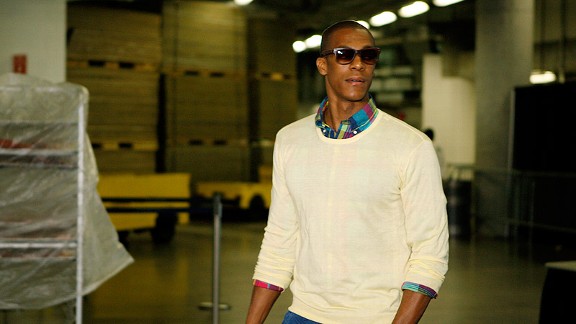 Issac Baldizon/Getty Images
Rajon Rondo with a strong pregame look in Miami in 2012.Boston Celtics point guard -- and style expert -- Rajon Rondo will appear on E!'s Fashion Police Friday night at 10 p.m. EST. Here's part of the press release on the appearance:
SPRING FEVER is in full effect this week on the set of "Fashion Police." Basketball star and Boston Celtic team member, Rajon Rondo, and "Arrested Development" actress Jessica Walter stop by to visit with Joan and her panel of style experts—Kelly Osbourne, Giuliana Rancic and George Kotsiopoulos—for a Friday night of fashion fun. The stylish pro athlete talks about his personal fashion sense and plays "Stash It or Trash It" with a much beloved coat pulled straight out of his closet, while Jessica plays everyone's favorite "Man Candy" game. Check out Rajon, Jessica, and the stylish bunch on Friday, May 24, 2013 at 10 PM ET/PT only on E!
Rondo, who interned for GQ and is no stranger to bold fashion choices, is rehabbing from ACL surgery in February.