Like every good team, the Boston Celtics will enter the offseason with multiple plans of attack based on how the summer unfolds. Unlike past years, however, deciding which initial outline is Plan A isn't quite as easy to determine. The Celtics have plenty of options -- and that's not necessarily a good thing -- as each sketch has its pitfalls and promise.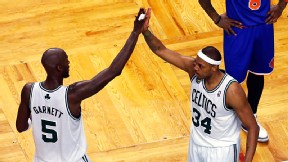 Greg M. Cooper/USA TODAY Sports
Could the Celtics squeeze one more season out of the Paul Pierce-Kevin Garnett combo?
While there was much more roster uncertainty last summer, at least in terms of the amount of unrestricted free agents, Celtics president of basketball operations Danny Ainge was adamant that re-signing Kevin Garnett was Plan A, and the team was able to hit the ground running when Garnett inked a three-year extension before the start of free agency.
This year? You can believe Ainge when he says he's not really sure which direction the team is headed. An early playoff exit makes it an extra long crawl to the NBA draft later this month, which serves as the sort of unofficial start of roster construction for the 2013-14 season.
Over the next month, we'll hear an endless amount of speculation about which direction the Celtics might be leaning -- like the out-of-town report this week that suggested the Celtics were ready to buy out Paul Pierce -- but the truth of the matter is that it's a fluid situation, and all Ainge can do at this point is gather information about potential moves and be ready to activate his plan of choice when the moment arrives.
There seems to be four main scenarios in play this offseason:
Keep the band together: Minimal changes, bank on health

Goodbye, captain: Roster tweaked with Pierce departure

Out with the old: Moving on without both KG and Pierce

Complete teardown: Extreme makeover: Celtics edition
Over the next four days, we'll take a closer look at each possible option, gauge the potential for it to occur, determine some moves that might go along with it, and debate whether it's the best course of attack. First up: We're putting the band back together.
What it entails: The Celtics enter the offseason with 14 of the 15 players from the end of the season under contract for the 2013-14 campaign. This doesn't necessarily suggest bringing back the whole crew, but it would mean keeping the veteran core of Pierce and Garnett in place, while making other moves to the back end of the roster.
Degree of difficulty: Low. Honestly, this is the path of least resistance. Garnett sounded like a player with one more season in him after Boston's early playoff exit and, despite all the speculation about his future, the Celtics could very easily elect to bring Pierce back on the final year of his deal (even if they'll cringe a bit at the price tag).
Why it makes sense: If healthy, the return of Rajon Rondo and Jared Sullinger gives Boston a young core that can defray some of the load on Garnett and Pierce, giving the Celtics enough to at least be competitive in a top-heavy Eastern Conference. Boston will cross its fingers that Jeff Green will continue to blossom and Avery Bradley will improve further after double shoulder surgery last summer. With a little more consistency from the bench and the right offseason additions, this is still a dangerous team. And let's not forget Garnett was a rebounding machine in the playoffs and Pierce had an excellent regular season, carrying the team at times when others were injured.
Why it doesn't make sense: There's a whole lot of "ifs" in this scenario, the least of which assumes improved health -- not just that of rehabbing Rondo and Sullinger, but for a Boston team that's seen its title aspirations routinely detoured by injuries in recent seasons. The biggest obstacle might simply be mental, as putting back together a team that got bounced from the opening round of the postseason is a bit hard to swallow. The Celtics don't want to endure another .500 campaign and an early May exit -- that's the fast track to NBA purgatory, where a team can't restock via the draft and doesn't compete for a title, getting stuck in a cycle of mediocrity.
Let's make some deals: If the Celtics elect to stomach the $15.3 million due to Pierce in the final year of his contract, then something has to give in the middle of Boston's salary structure. And the three guys in the headlights would likely be Brandon Bass ($6.5 million), Courtney Lee ($5.2 million) and Jason Terry ($5.2 million). Bass was phenomenal late in the year and into the postseason, but a healthy Sullinger potentially moves him to a reserve role and makes his salary a little tougher to stomach. Lee and Terry were two of Boston's biggest underachievers this season, which means their trade values are about as low as they can be, but the Celtics could explore potential deals. There were rumblings during the year that Memphis was interested in Lee and the Grizzlies have trade exceptions that could help facilitate that sort of deal (interest might hinge on whether Tony Allen moves on). Finding a home for 35-year-old Terry is a little bit more difficult at his age and price tag. The Celtics could get some help with the No. 16 pick in the draft and can add a serviceable body with an available exception (mini midlevel or biannual). Adding an experienced ball handler and/or some additional center depth with veteran minimum deals wouldn't hurt the cause, but are those sorts of players taking discounts to win in Boston at this point?
Final thoughts: Boston's early playoff exit seems to have encouraged many to assume that a larger overhaul is necessary. As the sting of an early summer vacation starts to wear off, you can't help but wonder if the Celtics will give increased thought to keeping this group together, particularly since Pierce's expiring deal (and the greater potential for Garnett to retire next summer) could more seamlessly usher in a makeover process (whether that's next summer, or as in-season trade options if the team fizzled during the regular season before that).
Your turn: Do fans desire another go with this core? Sound off with your thoughts in the comments.